---
Sep 21, 2019   |   Photo courtesy of Larry Niehues, Brendan Lutes, Berto Liechty, Hadrien Le Flanchec, & Nevin Pontius
---
If you've been following the custom motorcycle scene on Instagram for some time, you've probably come across Dimitri Coste. He can be found under the handle @motelcoste. He is a photographer by trade and a motorcycle racer by passion. His unique style and talent is on display in everything that he does. We caught up with him on a recent trip to California...
---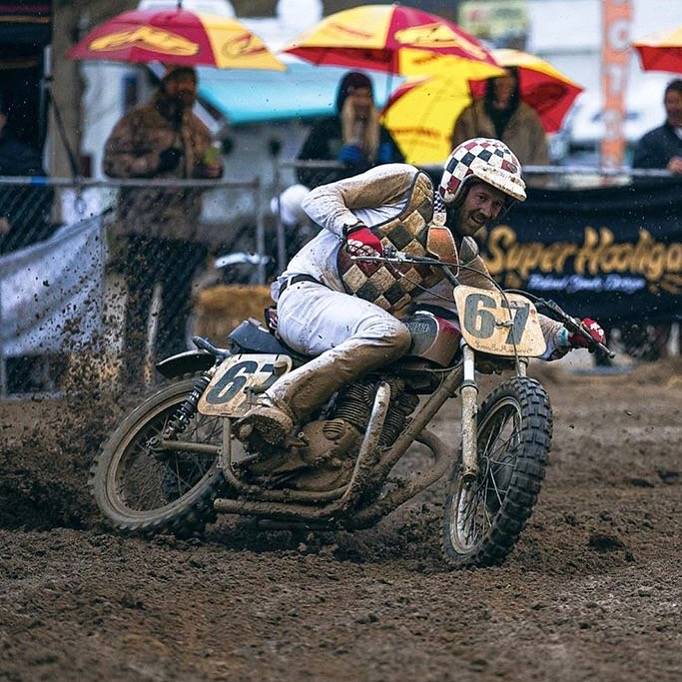 What does 'motel' mean in your Instagram name, @motelcoste?
Dimitri: Motel was a label I founded back in 2002, I was doing very ltd runs of unexpected items that were sold at Colette the famous concept store in Paris.It was more for fun than a real business. unfortunately, busy building a house and becoming a father, at some point I forgot to renew the registration of the name and lost its copyright. people keep asking for stickers and goodies nowadays. when i started my IG account I naturally took this name. for French people it sounds different as some very famous and high end hotels in Paris are named "Hotel Costes" I like to think I'm a cheaper and more Californian alternative option ah ah, and sure secretly dream of opening my own Motel in Paris one day.
Where are you from and where do you reside now?
I am from Paris, well the close west suburbs. like 6 mile outside Paris in France, and I reside basically 3 miles north of were I grew up. Anywhere I go outside of Paris, I'm a Parisian, in Paris I'm a "banlieusard" with means suburban.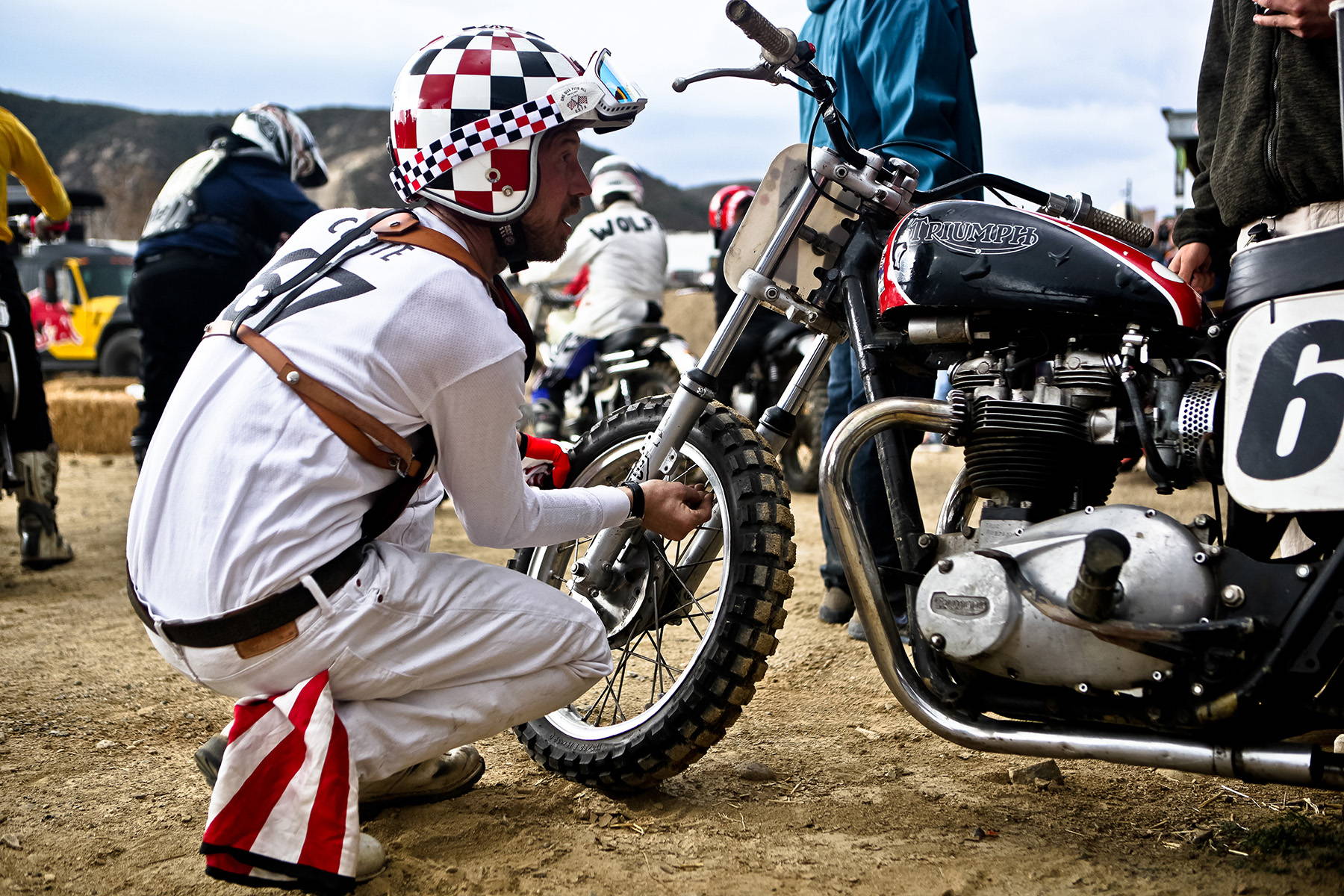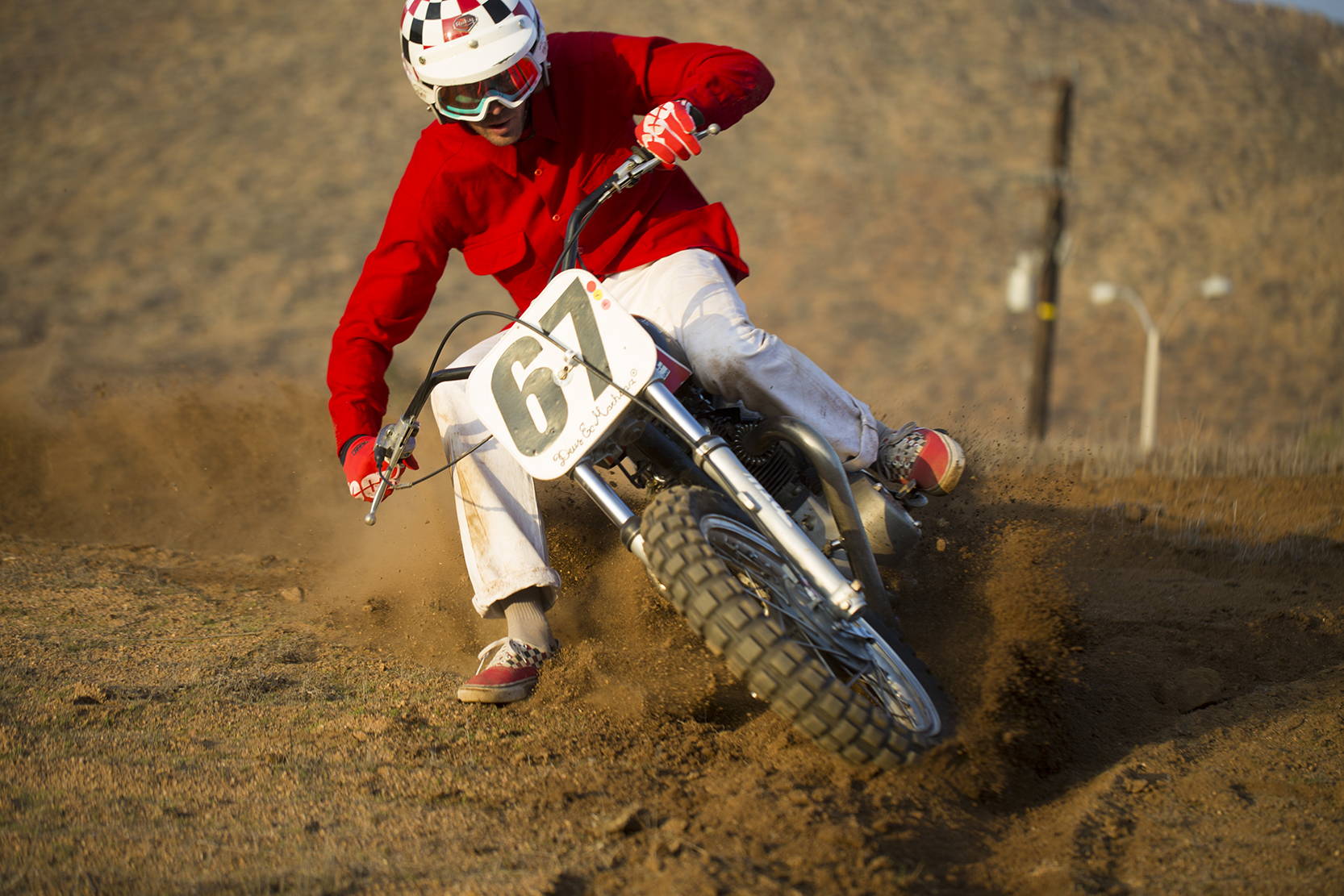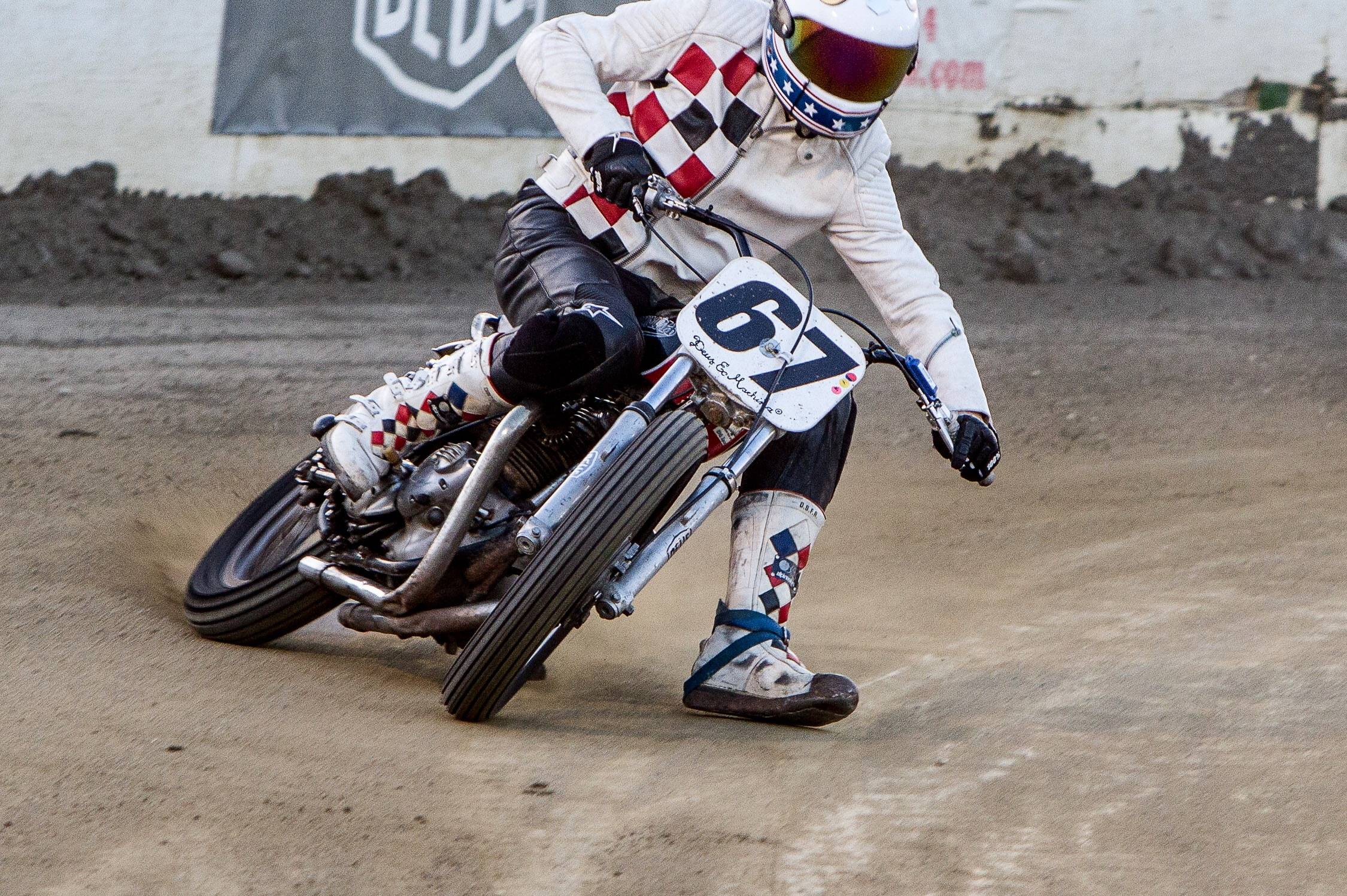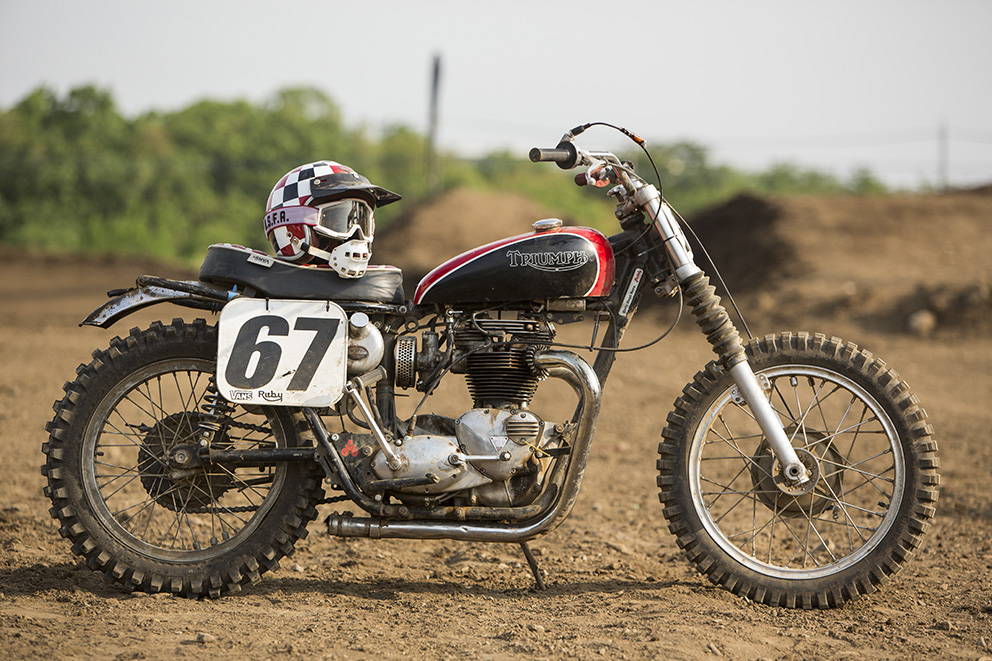 ---
"I tend to blend all my passions and activities in one whole lifestyle."
---
Do you race motorcycles for a living?

No I don't, and it won't be as fun if I had to, but it's somehow became part of my duties in a way, as I tend to blend all my passions and activities in one whole lifestyle. I race when I want it where I want it, I basically feel free to enjoy riding the way I want it, I am solicited by some brands, companies who support my racing/riding and globally my activities and help me be able to keep doing it. I chose those brands very carefully, and it's always labels, brands that I respect and like. it's motivating and exciting to create relationships and feel supported. it's sometimes a way to team up and be creative, like when I do the 100% Barstow collab goggles, or the Indian ones, when I get to design my own shoes for Vans, or get one off pairs of Alpinestars boots made for a particular race.
What are some passions outside of work?
Never knew where was the border between work, passion, fun...
When did you get into 2 wheels and how?
Very early looking at French motocross magazines, probably 4 or 5 years old just looking at the picture. shortly you jump on a bicycle.
Does your race number '67' mean something special?
Yes it does, 67 comes from my medium Format camera, a Pentax 67. I own 3 of those cameras from the 60's and that was my weapon of choice for a decade until I moved on to working with digital cameras at a time where not a single client would give you a job if you weren't shooting on digital camera. Times are changing and recently I'm getting more jobs required to be shot on film, so I still use those Pentax 67, less often, but still, and its an amazing camera. for some time I was running #87 in Europe because #67 wasn't available. 87 was for the first time I came to California and for Mark Brelsdford who always looked radical and uberstylish on the bike.
What was your first bike?
Street legal, it was a CB 125 K5 1974 if I remember well. It looked good and was in good condition but was too slow, didn't brake, didn't turn, I got rid of it very quickly and was back on a skateboard + metro for a while. Then I bought a Honda Monkey and started the Big Daddy Midget Moto Club in Paris with a group of friends. Most of us were tall and we were raging the streets on heavily modified Monkeys, ZB, CT70, YSR80... only 10 or 12 inches wheels. not street legal was a 1964 Triumph Tiger Cub T20M in 2005
How many bikes do you have and what are the purposes of your bikes?
I have 9 bikes. Two are my daily riders for Paris: 1988 Honda NX650 Dominator & my Indian Scout Hooligan RSD (the only one existing in Europe.) The Tiger Cub for pre 1964 Trial, but engine needs rebuild since too many years...
BSA 1973 B50mx hardtail short-tracker (Flat Track racing)
Early Trackmaster triumph T140 (Flat Track racing)
Norton 1935 ES2 (current project for pre-war road-racing)
Triumph 1967 TR6C O.S.F.A (does it all, resides in Cali)
Sunday 160cc mini flat-tracker (so much fun)
Sunday 147cc mini flat-tracker (for kids & friends)
If you were marooned on a desert island and could only bring one bike, what would it be?
There's no gas station, or power outlet on a desert island, so what's the point of bringing a bike ? I'll take a bicycle ;-)
Editor Note: This is a well stocked hypothetical island with unlimited gas and roads galore. However, we LOVE Dimitri's answer.
English vs American Iron. (Triumph vs Harley/Indian/etc) What's your choice?
It all depends the use.
I've been dreaming of an Indian tank shift flat tracker for years now, something as good as Go Takamine's weapon.
I feel good on old bikes & I love to race em.
What does riding do for you?
What do you think of the modern 'retro' bikes that are so popular right now?
I think its cool, I love motorcycles in general. you don't have to be on an old one to have fun, just ride one that's already good.
people like the look of retro bikes but want something with an electric start and a leasing, why not.
What is a ride that everyone should do at least once in their life?
I don't have enough experience yet I think to name THE ride.
I'd say a long distance ride with a handful of good people / friends no matter where and how. You & your friends will make it THE ride.
Who do you go for advice? Mentors? People that you trust?
Depends for what kind of advice! My brother Jerome usually for main once, sometimes my friend Julian Heppekausen for many moto related talks. And Frank Chatokhine if its about British mechanical questions/issues.
Oh la la, there is so many. almost every race brings great race memories. Catalina GP remains special as it was so unique in any aspect and I brought the 1st place trophy home without knowing I won after the race. I went there for the experience and came back as a open twin class winner. I met so many legends that weekend, it was amazing and marked my debut as an amateur racer.
Pikes Peak in 2011 still is very unique too, because its a life experience and you go thru feelings and sensations that u get only there when its only you, the bike and the mountain... strangely terrifyingly exciting.
Racing Hell On Wheels in Japan was also a huge memory maker, Wheels & Waves 2018 was a peak.... every race at Del Mar....