Gardena, CA -- When we first got our hands on this 2011 Triumph Thruxton, we did what felt natural. The stock machine was infused with cafe racer DNA so we doubled down on the classic vibe; focusing on performance upgrades, more extreme clip on bars, and tasteful upgrades that would bolt on. The result was a "build that's within the reach of a competent amateur with a mid-range budget" (via BIKE EXIF).  
The first iteration of this build was featured on Season 2 of Cafe Racer TV. It featured a 2-1 left exit exhaust, a 18" wide wheel kit in the back, and a custom machined Triple Clamp to fit LSL clip ons. 
This build was enigmatic of that time in the custom moto scene. The Triumph Modern Classics were the go-to donor for many builders in those days. Cafe Racers have a storied history, and with a Triumph Thruxton, you could get the look without sacrificing reliability or performance. 
From there, we went a couple steps further. We did some engine work (big bore kit), re-installed factory headers to mount a pair of Predator Exhaust, got fresh paint work, and bolted on our Cafe Racer Seat.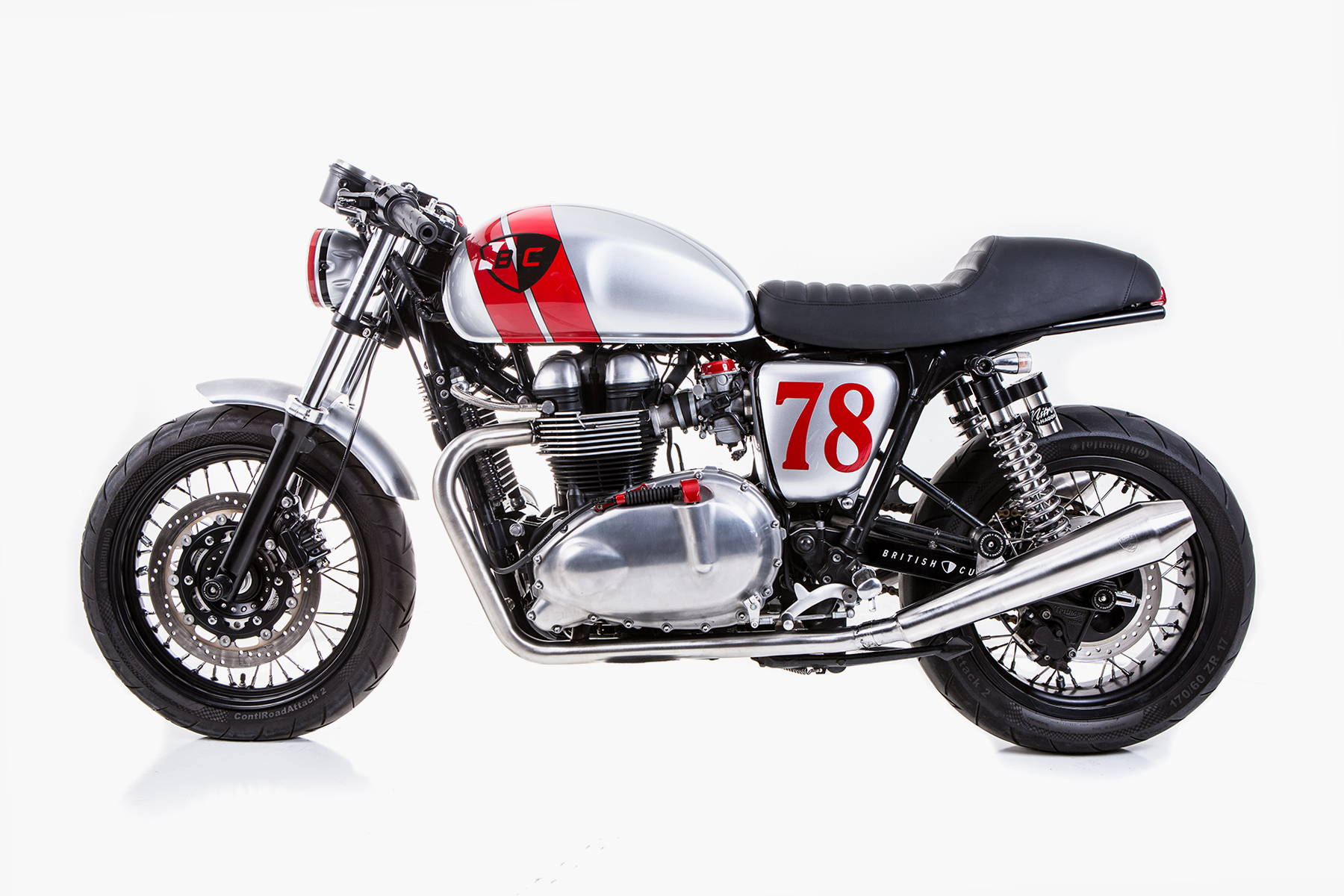 This iteration of the bike was that last time it wore the "Cafe Racer" badge. You can view full details on the build page here:
Accolades: This build was featured in BIKE EXIF's Top 5 Triumph Thruxtons list. 
In 2015, we revisited this bike for a photoshoot with Stayhard Magazine. Photographer Per Norberg requested the bike. The bike was updated with a new prototype exhaust and knobby tires to give it a Cafe/Scrambler styling that fit the look Per was going for. 
This marked the halfway point in it's transition from Cafe Racer to Street Tracker. Fast forward to 2019, and we got the itch to take another stab on the famous Thruxton sitting in our shop. We had a trip planned to rip some private land in North San Diego County and this bike was selected to fill out the quiver heading south. It got a tune up, some fresh wheels/tires, matte black paint, and some new accessories from the 2019 catalog. At this point, it was full on Scrambler, but the transition to Street Tracker was all the more close to fruition.
After returning from that trip, we went all in on the Street Tracker look. 
To see the final result, visit: https://britishcustoms.com/blogs/triumph-thruxton-1200-builds
Links:
https://www.bikeexif.com/british-customs-thruxton
http://caferacertv.com/cafe-racer-tv-featured-builder-of-the-week-british-customs/
https://britishcustoms.com/blogs/builds/cafe-racer-deux
https://www.bikeexif.com/top-triumph-thruxton