---
July 30, 2019   |   Photos courtesy of Ryan Phillips
---
Every Triumph rider has a story. How they got into riding, why they bought a Triumph, and what they are doing to make it their own. Ryan Phillips is a father, a husband, a musician, a photographer, and a rider. Ryan grew up riding dirt bikes but when his life got too busy (marathon touring with his band Story of the Year, getting married and having two kids), Ryan sold his last dirt bikes. After things settled down, he wanted to get back on two wheels. For him, a custom Triumph Scrambler was the answer.
---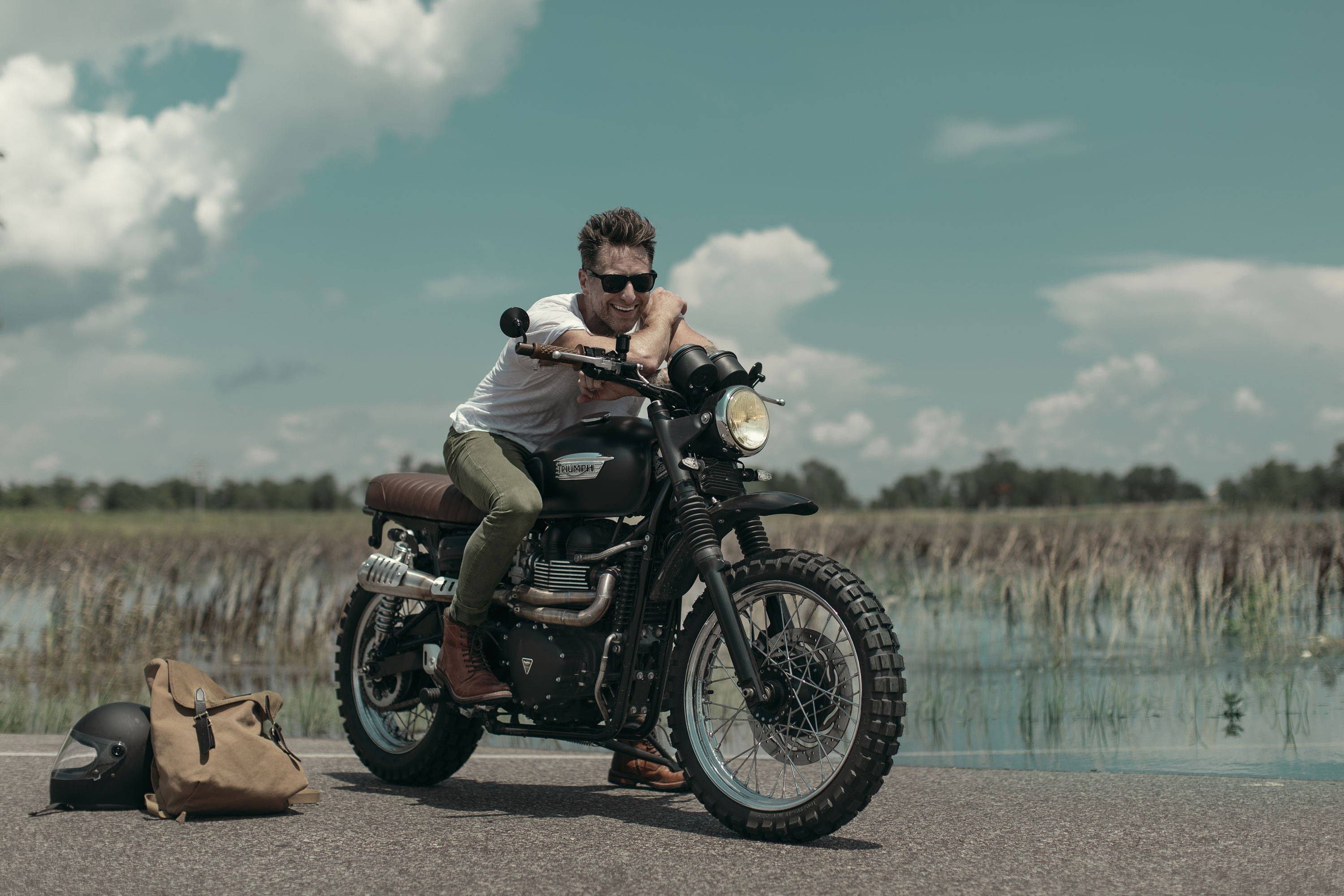 What are some things that inspire your vision for your bike?
Ryan: I grew up in the midwest riding bmx bikes, and at age 10 I got my first dirt bike. It was a Yamaha RT100. I vividly remember the knobby tires being my favorite part of the bike because they were tough looking. I soon graduated to professional 125cc motocross bikes and spent a huge chunk of my life over the following years riding and racing motocross. Every year I would save my money, sell my bike and buy a new one. I had well over a dozen dirt bikes throughout my teens and early 20's. Around 2003, my band, Story of the Year, got our first record deal and started touring internationally, sometimes for months on end. By 2005 we were gone 300+ days a year, by 2008 I was still traveling quite heavily and my wife and I had our daughter. Life happened, I felt like the responsible thing to do was to sell my last 2 dirt bikes, which at this point were largely neglected.

Holy crap I missed it.

When you grow up with dirt bikes, it gets in your blood. It becomes part of your DNA. You miss the smell of gasoline, the feel of turning wrenches, all of it. So once the touring evened out and my kids were out of diapers, I became obsessed with the idea of getting a new bike. Something that didn't require me to load it into a truck and drive all day to a track or ORV area. Something I could just ride out of my garage and blast around the neighborhood. But, I've never really been into Harleys or big, bulky cruisers with windshields, or even crotch rockets. I grew up with knobby tires and old school dirt bikes, so I became obsessed with Scramblers. I dig cafes, but a mean scrambler is about the most beautiful thing on the planet to me. It hits that part of my brain that is still a 10 year old watching "The Dirt bike Kid", or "Rad", or the "Karate Kid" (When the Cobra Kai's rode their dirt bikes on beach!) No joke the main reason I got on Instagram was to look at scrambler builds!

I became obsessed with the 70's era Triumph scrambler builds, but I also knew that given the busy nature of my life (the band, moonlighting as a professional photographer, 2 kids and wife, etc), I wanted to spend the majority of my time actually riding instead of wrenching, so I went with a modern era Triumph Scrambler. So now I have my beefy, classic-desert-sled-looking dirt bike sitting in my garage, but it starts every time and doesn't leak oil!
What does the search for parts or materials to facilitate that vision look like?
A huge benefit to riding a modern Triumph is that aftermarket parts are widely available. First and foremost, the more I can make my Scrambler look like a dirt bike the happier I am, even if, like the majority of Scrambler owners, I admittedly spend most of my time on pavement. When I discovered British Customs it was like someone built a custom store just for me! Things that are crucial to a good scrambler build, such as a raised front fender, dirt bike bars, high exhaust, etc were all in one place, and these customizations rarely if ever require permanent changes or cutting & welding. Something as small and simple as the BC high fender bracket would otherwise have to be fabricated from scratch, instead it takes 1 wrench and 5 minutes and bam: you have a dirt bike inspired high front fender.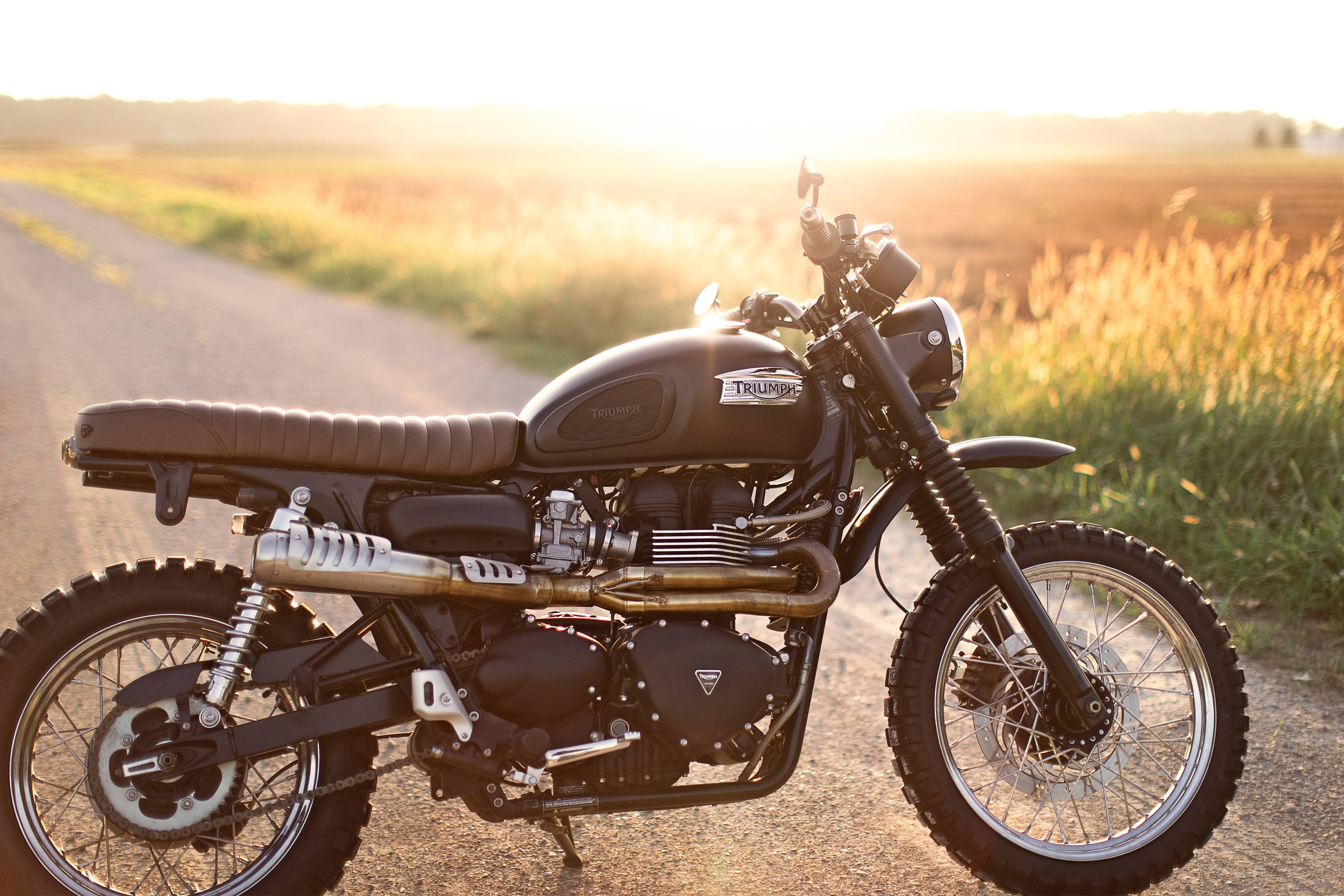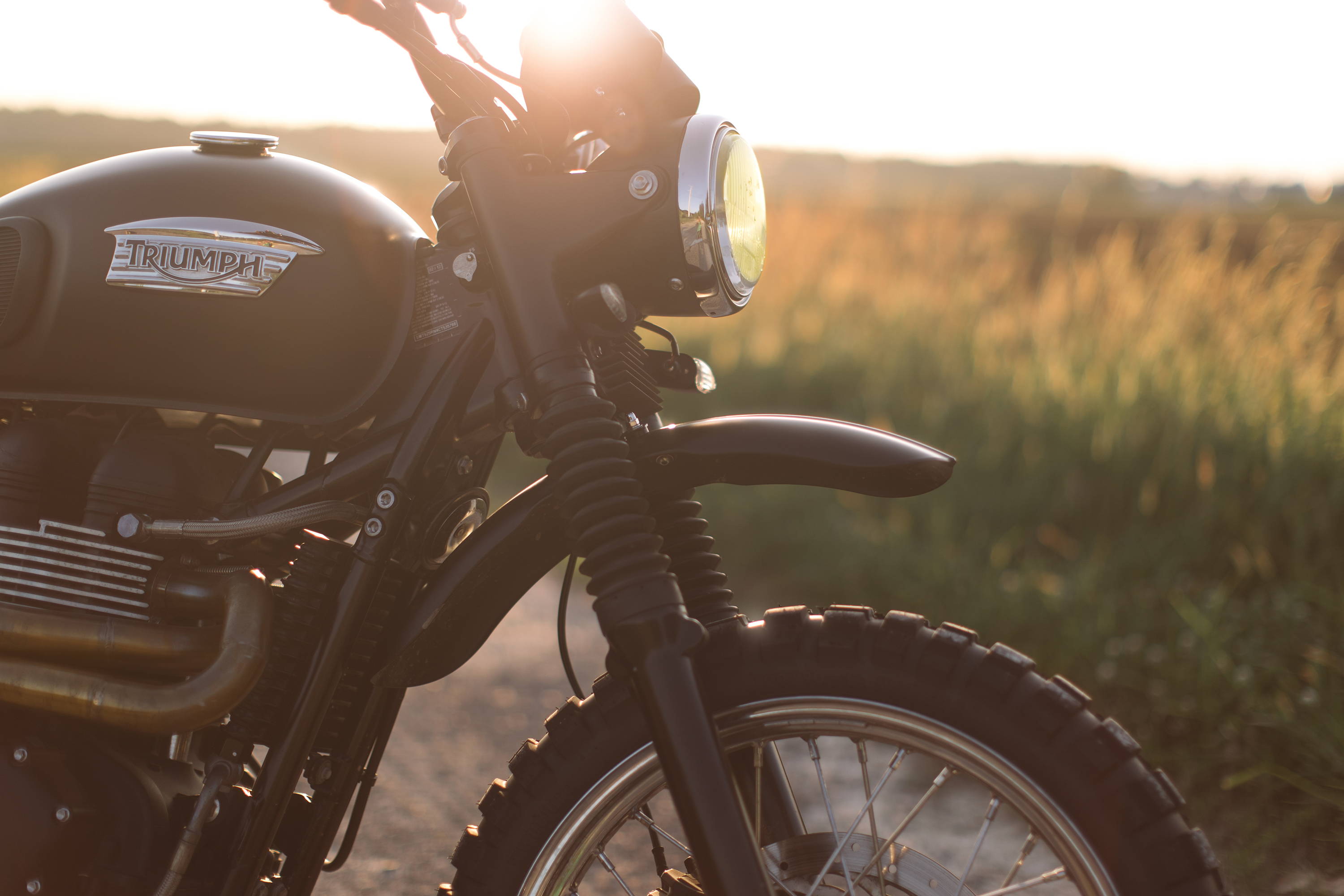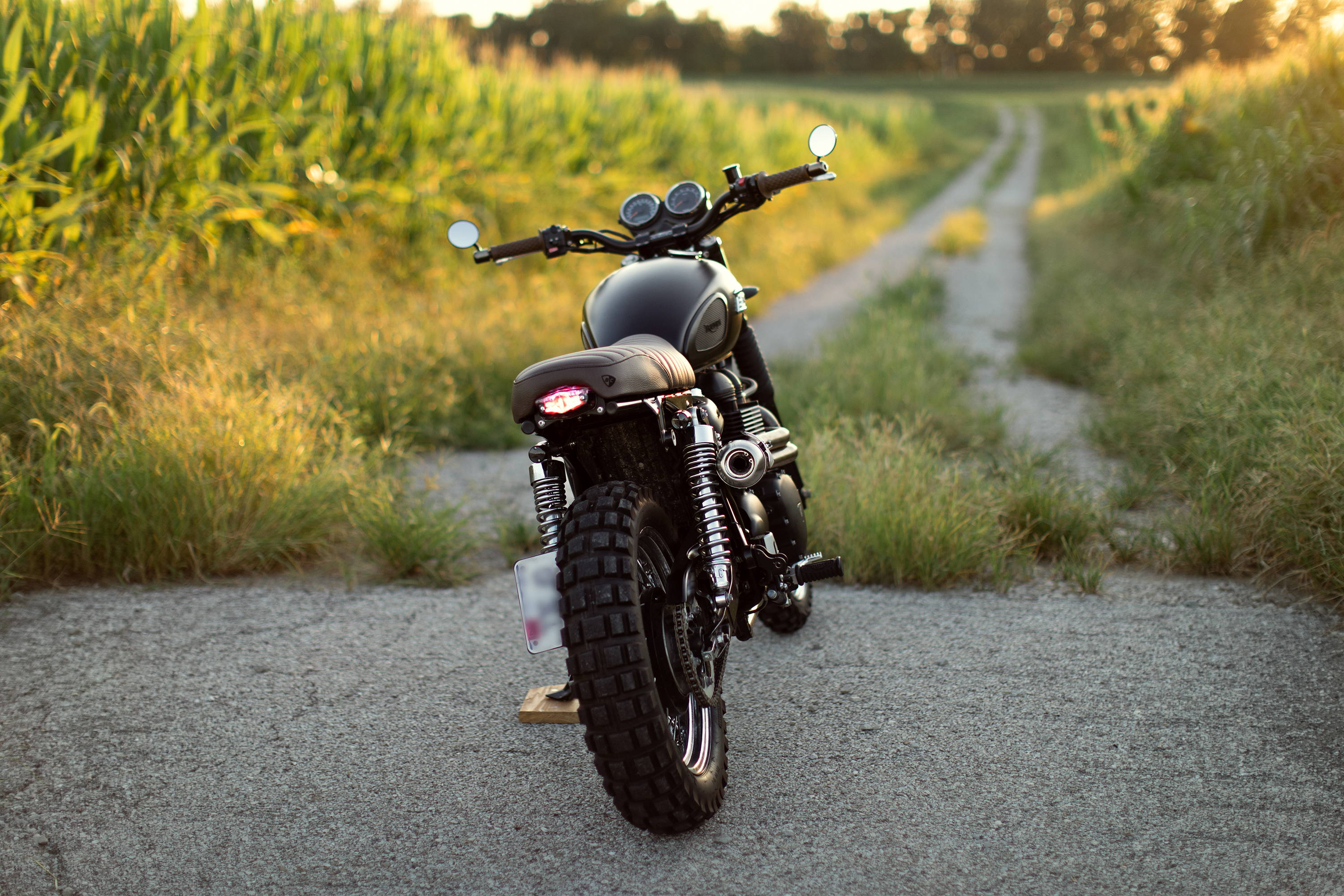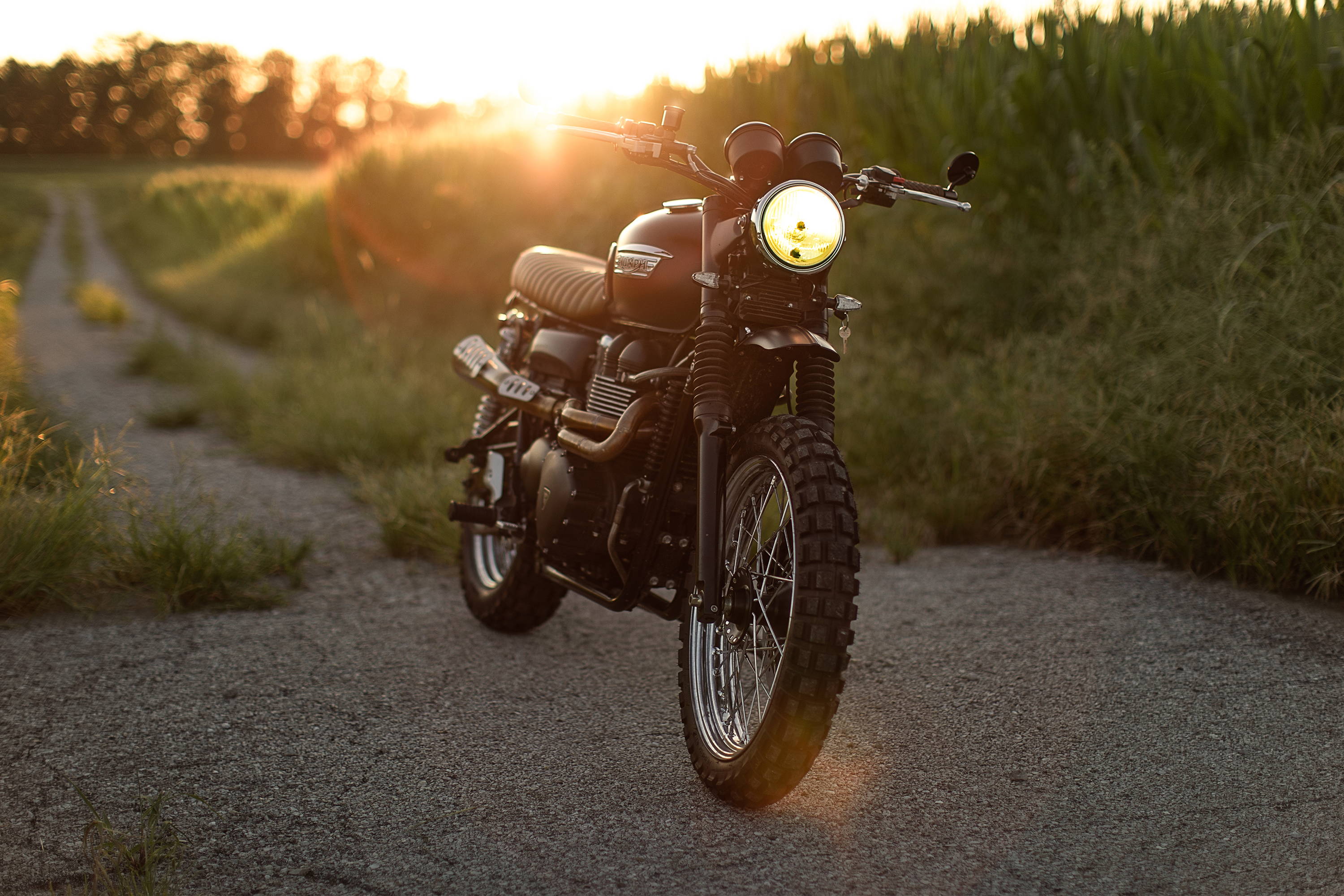 ---
It hits that part of my brain that is still a 10 year old watching "The Dirt bike Kid", or "Rad", or the "Karate Kid" (When the Cobra Kai's rode their dirt bikes on beach!)
---
What are some of the challenges that arise as you search for parts?

In terms of searching for aftermarket parts, BC has made it pretty darn easy! So I would have to say that the biggest overall challenge has been planning the paint scheme. I've got a solid start on customizing my bike but I still have a long way to go- I'll eventually get black rims, better rear shocks, delete the tach and slim down the headlight- typical scrambler stuff, but at some point I do want a truly one of a kind Scrambler, which of course means I'll have to paint the bike. I've mocked it up in photoshop in all different colors and I just can't seem to decide on a color. The decision is made extra hard because I actually love the factory matte black!
The other challenge is the exhaust. The pipes I have on there aren't anything extraordinarily cool, but I do really love the bronze / brown color of the metal. They look kind of shitty and old, and sort of tie in the brown seat and grips. I really dig it, even if it's not an Arrow or Zard or whatever. The downside is that my exhaust is short and mounts at the rear shock, which means the mounting point for the stock exhaust is exposed and serves no purpose. So, it's a choice between keeping my current exhaust and cutting the stock exhaust mounting point off the frame when i paint it, or just biting the bullet and shelling out for a whole new exhaust system that uses the the stock mounting point.
Ultimately, what is your primary motivation for customizing an already great bike?
Like I said above, a big old mean looking dirt bike is about the most beautiful thing in the world to me, so I guess you could say that my motivation in customizing the bike was to strip it down and make it look more like the old moto posters I had hanging on my walls as a child. I still have a long way to go with my build, but the goal will always be to make it look as much like a mean old dirt bike as possible.
Please discuss how you feel when you are out riding a bike that you painstakingly and at great expense, customized, to suit your personal style and riding habits?
I've a got a wife, 2 kids and a mortgage. I'm an actual, real life grown up! And keeping the roof over our heads on an independent musician / photographer's income can sometimes be stressful. But the feeling I get when I'm cruising down an old country road at sunset is worth the extra expense. Every single penny. As cliche as it sounds, it can be moving meditation. No phone, no music, just your body slicing through the wind, connecting with your surroundings. You're just free. After a good ride I am a better husband, father, I'm happier and calmer, and it's made all the more cooler because it's a bike that I'm slowly but surely making MINE.