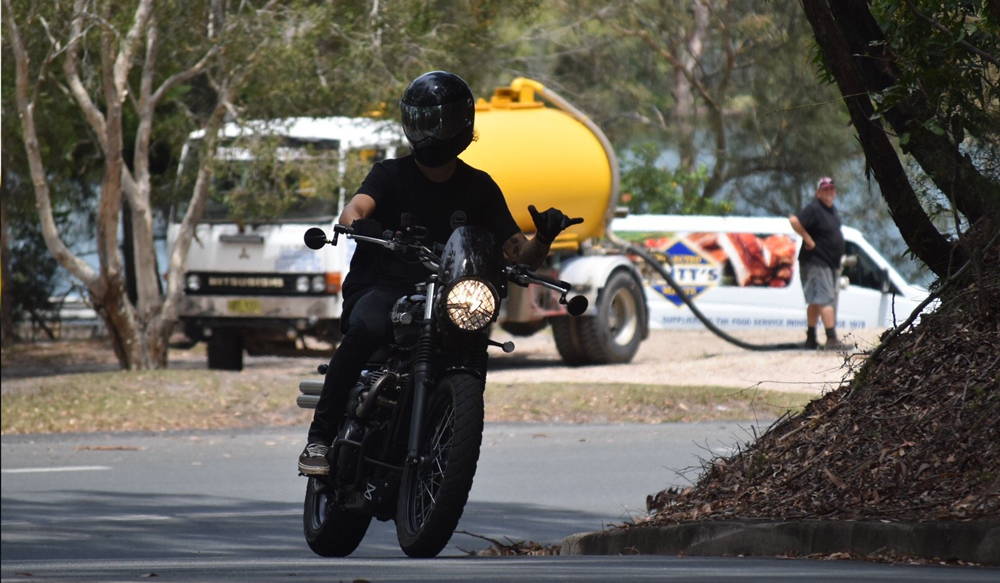 Coolangatta / Tweed Heads Australia
Surfboard Shaper / Sander
2017 Triumph Street Scrambler / 1991 Kawasaki KLR650
British Customs: When did you start riding?
Nathan Tummon: I'm not actually sure how old I was, I used to ride around on the family farm on an old beat up suzuki 250 dirt bike! The think was pretty old and rugged, I can remember not actually being able to touch the floor, so I had to stop and start by a pile of rubble so I could get on and off and put my foot down!
What was your first bike?
So there was the old Suzuki dirt bike not sure where it came from.. I think it was a family members old bike, but actually legally riding on the road my mum got me a little 50cc moped when I was 15! It was pretty fun zipping around narrow country lanes, after that I used to ride around on my mates bikes, it varied from 125 little bikes up to a few 4/500 cafe racers and naked style bikes, nothing particularly new, I think most of the stuff I rode was older than me!
What is your background/interest in motorcycle customization? Family hobby, self taught, trained pro, etc?
My background is mainly completely self taught, I leant a little about basic Mechanics growing up on a farm, so I can happily do the basic, breaks/spark plugs all the standard maintenance and odd fixes. I have a few former who are heavily into bike building so have also picked up a few bits from them! I think they were what really got me into riding!
What is your inspiration when wrenching on or designing your bike?
I think a lot of my inspiration comes from scrolling through Instagram, there is such a variety of build and bike styles out there, I always see bikes similar to my own and always think that would look sick on mine haha! I would say I also pull a lot of inspiration just around my local area.. there is quite a bit riding/bike community and everyone is always meeting up for rides and you get to see a lot of different custom builds and styles. I've found recently that I've been into the flat track style mixed with a little cafe raced! then again I look at older more rugged stripped back bikes that have been knocked around and had a few add ons here and there and always think they look pretty sick!! It's never ending really!
What things outside of motorcycling inspire you?
Outside of motorcycles, I'm pretty obsessed with Surfboards!... being my job I get free run making whatever comes into my head! So it keeps me pretty occupied when I'm not riding, surfing or hanging with my family!
What are your goals in the coming year?
Next year I'm just going to keep doing what I'm doing! try and ride more, surf more! A little more bike customization is definitely on the cards too!