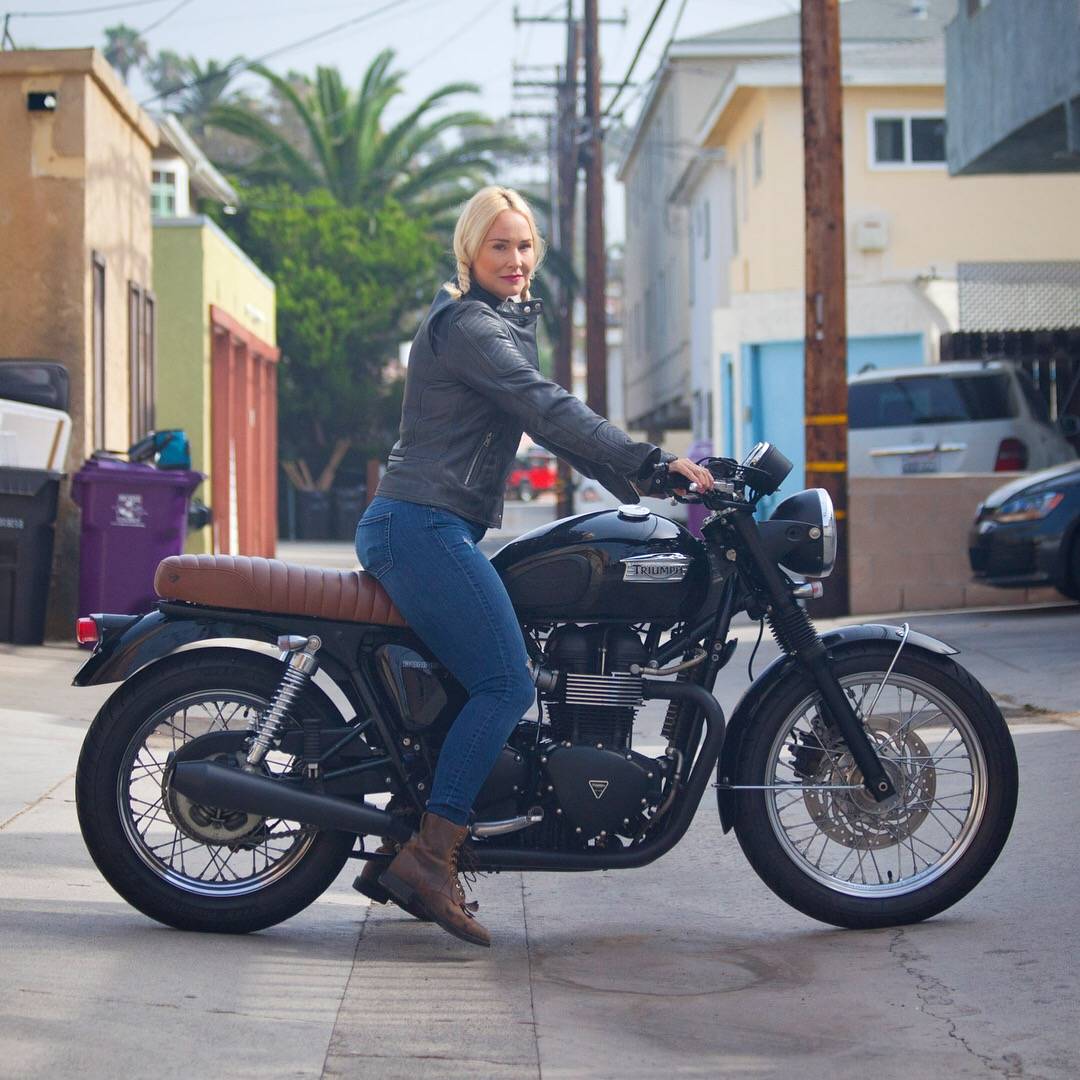 2010 Bonneville T100 / 1959 Zundapp Super Sabre
British Customs: When did you start riding?
Kristina Furlong:  Probably around 17 years old (I would steal my dad's old Honda 70 and cruise to my friends' houses).

What was your first bike?
1979 Bonneville T-140. I owned it for 1 month before it caught fire on the side of the road. It's really too bad. I loved that thing. Her name was Ariel 😢

What is your background/interest in motorcycle customization? Family hobby, self-taught, trained pro, etc? 
My dad was a true garage builder. He built around 26 bikes in his life, and I watched him do it growing up. He had a bunch of vintage bikes. Some of which included Triumphs, Nortons, BSAs, Ducatis, and Zundapps to name a few. He is very sick now and in a board and care, so my mom had to sell most of his collection. I own his 1959 Zundapp Super Sabre that he built. It was his favorite bike from his youth. Everything about that motorcycle reminds me of him; the look, the sound, the smell. With that said, motorcycle customization for me is personal. It should be a reflection of you and how you envision it emboding all those qualities like my dad's old Zundapp. When I look at my Triumph I remember all the great trips I've had on it, how it looked during that one memorable sunset, or the way my pipes make such a pleasant hum on the open road at a generous speed. Customization of your motorcycle makes your bike truly yours.

What is your inspiration when wrenching on or designing your bike?
I love vintage bikes, mostly because they remind me of my dad, and that's why I love Triumphs so much. My bonnie has a classic look that I love but with new technology and engineering all in one. Fuel injection is a girl's best friend 💁🏼

What things outside of motorcycling inspire you?
I am an operating room nurse so I see tons of people coming in and out of surgery for all different reasons. Some patients have terminal cancer, some have been in a horrific accident, some have congenital defects, and the list goes on. With that said, my line of work moves me to really try to enjoy every single day I have on this Earth. Taking care of these patients have showed me that life is very valuable and I want to do things that bring me joy and makes me feel alive and grateful for everything I have. So I think it's safe to say that people inspire me. I also like art, dogs, nature, and traveling. All the regular stuff 🤓.

What are your goals in the coming year?
I really want to ride through the Pacific Northwest. Or to Austin, Texas. That would be fun.