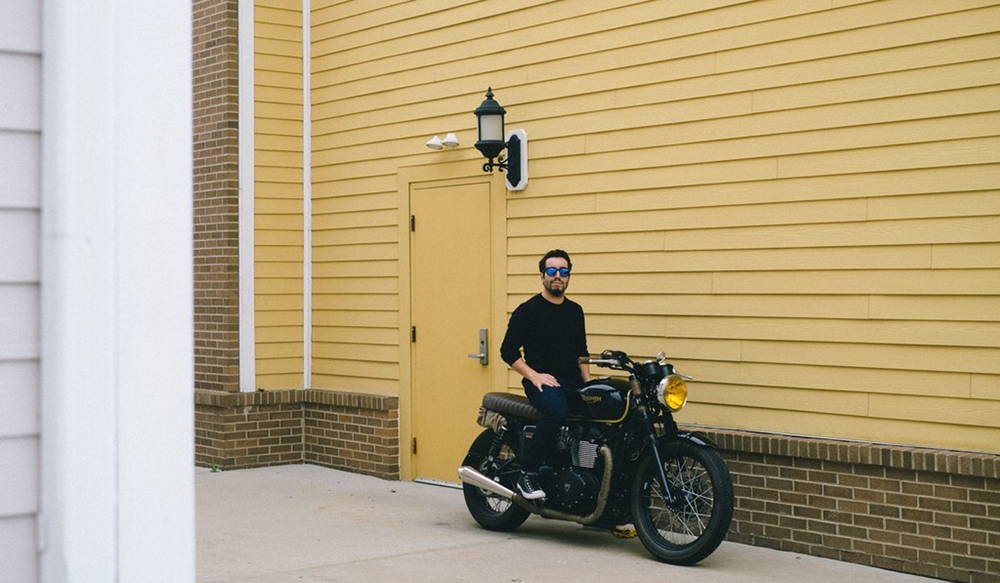 Graphic Designer & Camera Director for a local TV station
2015 Bonneville T100 & two classic Honda's
British Customs: When did you start riding?
Danny Escobar: I began riding when I was about 14.  I grew up in a small town in South America where small capacity motorcycles were very common. It was practical and easy to learn, and I had access to my uncle's rides.
What was your first bike?
Even though I began to ride at a young age, it was only about 5 years ago that I purchased my first bike: a 1972 Honda CB750.
In recent years, my intense passion for motorcycles was rekindled, and it motivated me to get back into biking. One day, while browsing Craigslist I came across a beautiful bike, and with the help of a friend, I hopped on a truck and took a five hour drive to pick it up in Virginia. That was the start of my home builds.
What is your background/interest in motorcycle customization? Family hobby, selftaught, trained pro, etc?
When it comes to motorcycles, I am self taught. As a teenager, I was lucky to have been surrounded by my uncles' bikes and to have seen them work and modify them, but I never took classes or spent time at a garage. Now, as an adult, I am lucky that a few coworkers who ride taught me more. Internet forums and YouTube "how to" videos helped also.
My first bike had an incredible amount of issues that ranged from poor wiring, leaking forks to corroded carburetors. This forced me to learn the basics and then I tried to make things better from there. In the process, I learned new things about myself. I am not only passionate about riding bikes, but also about the bikes themselves. And seeing the work I can do with my own hands has been amazing.
What is your inspiration when wrenching on or designing your bike?
When I studied graphic design and advertising, I learned to always look at other people's work for inspiration, to see how they solved a certain problem, then compare it to my work, and maybe even borrow a little. I remember flipping through the pages of Fuel magazine some time ago and reading an article about Dustin Kott and his Honda CB's. Immediately I felt this urge to build something like it, and with my newly purchased ride sitting in the garage I began to take it apart and see where it would take me.
It took a couple of years to sort things out, learning from trial and error to get my bike going even just around the block. Financial difficulties also delayed my project. 
Some time later, I met new friends who liked to do longer rides so I felt I needed something different, newer, and more comfortable. The Bonnie suited my tastes: classic, reliable, and fairly easy to work on. 
It is still a learning experience with my Bonnie. A little bit of work has gone into it so far, and when I go riding, the bike gets many compliments. This recognition inspires me to work on it some more.  
What things outside of motorcycling inspire you?
Every few years I get into something different.  I like to see and learn new things. Photography, music and running are my daily components. My job as a designer and camera director constantly challenges me, too. At the end of the day, it's all about visual aesthetics.
When I'm out and about with my wife and daughter, we explore little towns, relax in coffee shops and browse antique shops. I find inspiration in different ways and from different places.
What are your goals in the coming year?
I have a couple of other bikes in my garage: two classic Hondas. I would like to refine the Bonnie a little more, and build another cafe racer out of the old Honda CX500.
Eventually, I want to build something super unique and meaningful, that not only gets lots of "wows," but performs well. I have a long way to go, but in the meantime I'll keep experimenting and see what sticks!
Update on Danny's CX500 below: