Thruxton 900 Evolution part 1: The Beginning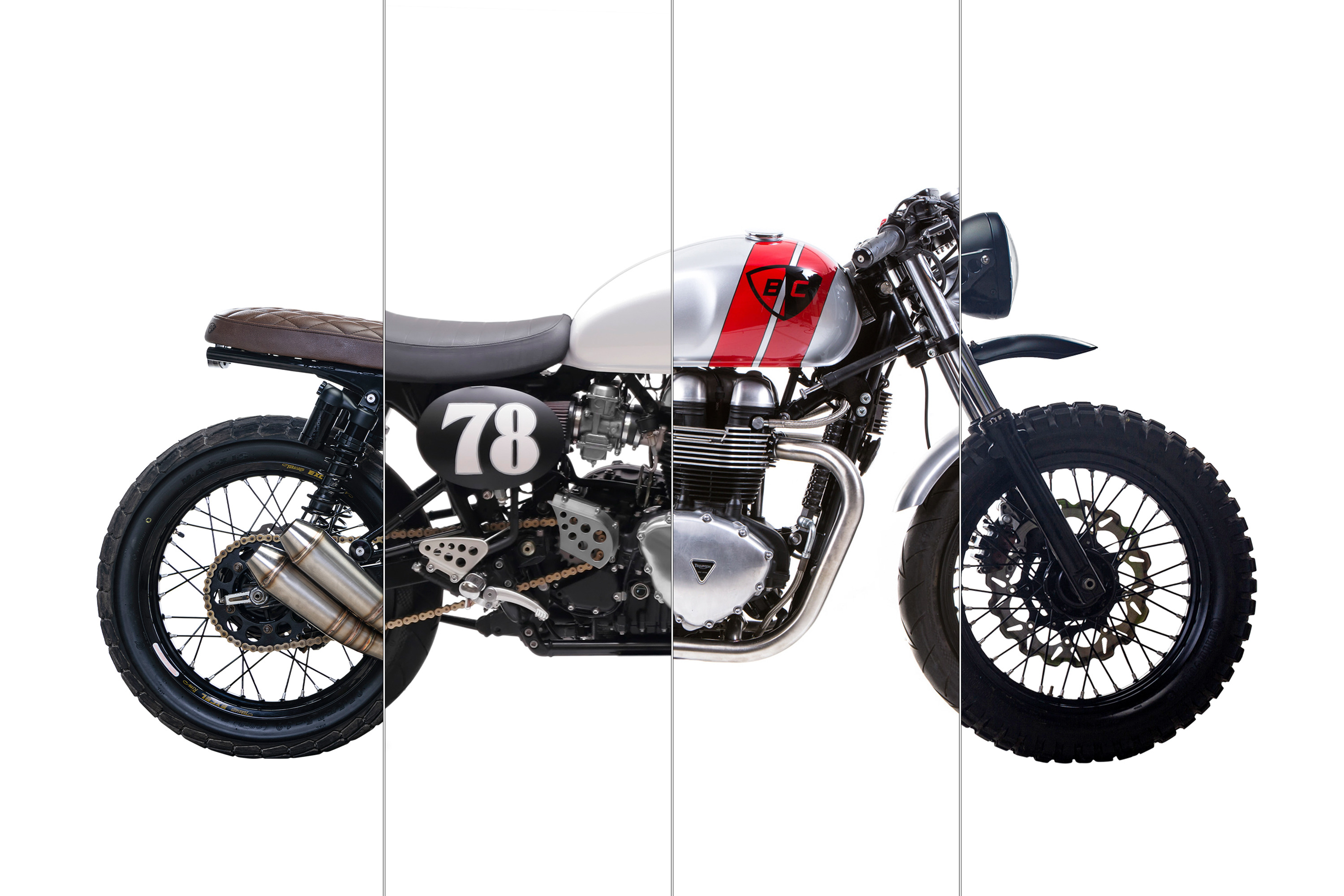 The evolution of our Thruxton 900 carries a lot of British Customs history. Building it in multiple ways challenged the way we look at cafe racers, helped bridge the gap between modern technology and classic aesthetics, and down the line, had us breaking unwritten rules on what cafe racers should be.
We first acquired the bike back in early 2011 when we were approached by Cafe Racer TV for an opportunity to work together on a build to be featured on their show. Upon agreeing, we were given a task to enhance the handling, performance and appearance of a 2011 Triumph Thruxton only using bolt on parts within a 24 hour period while being filmed. The result was the Cafe Racer TV Project that was featured on Velocity TV's Cafe Racer TV Series.
With that in mind, we thought the best machine for this task was the Thruxton 900, so we linked up with Southern California Triumph & purchased our first *new* motorcycle for our shop (most of our bikes come to us pre-owned).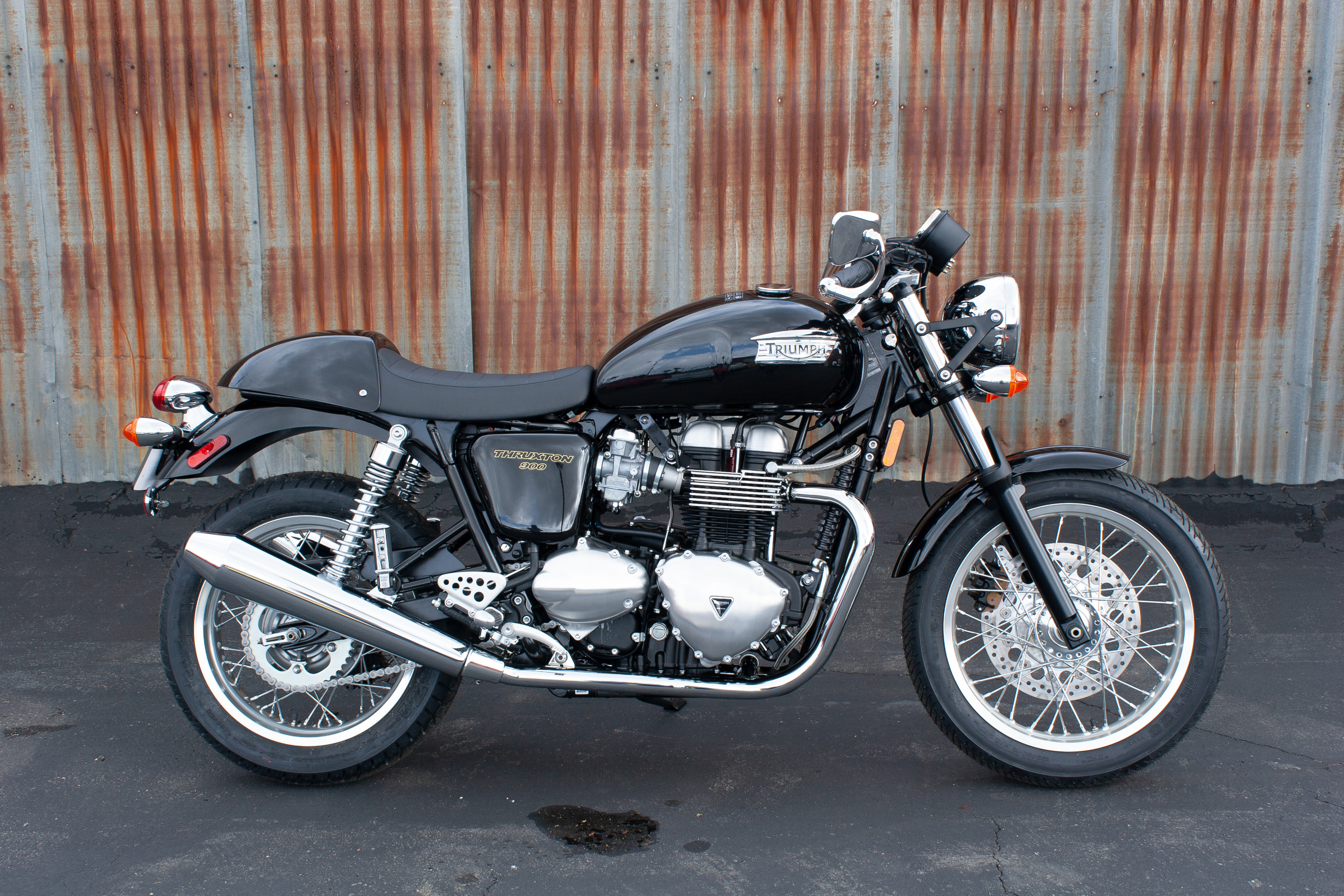 Our first new shop bike, fresh off the floor from Southern California Triumph
Brainstorming a few ideas, we decided to go with a build that's easily achievable at home without complex tools and within a mid-range budget. Low key & simple, but with increased performance.
This is where the development of numerous components began, and the 2-1 Low Pipes were born with the following design elements:
First design: Pipe mounted low which didn't pass as it scraped in the canyons
Second & approved design: Upswept, plenty clearance tested on track
The right side driveline is an often overlooked part of Triumph modern classics and we wanted to accentuate it. By opting for a 2-1 exhaust system with a left side exit, we were able to achieve a more stripped down look. For a unique exhaust tone with optimal backpressure performance, we used a perforated core baffle instead of a louver core baffle which is then integrated into a Shorty Predator Muffler.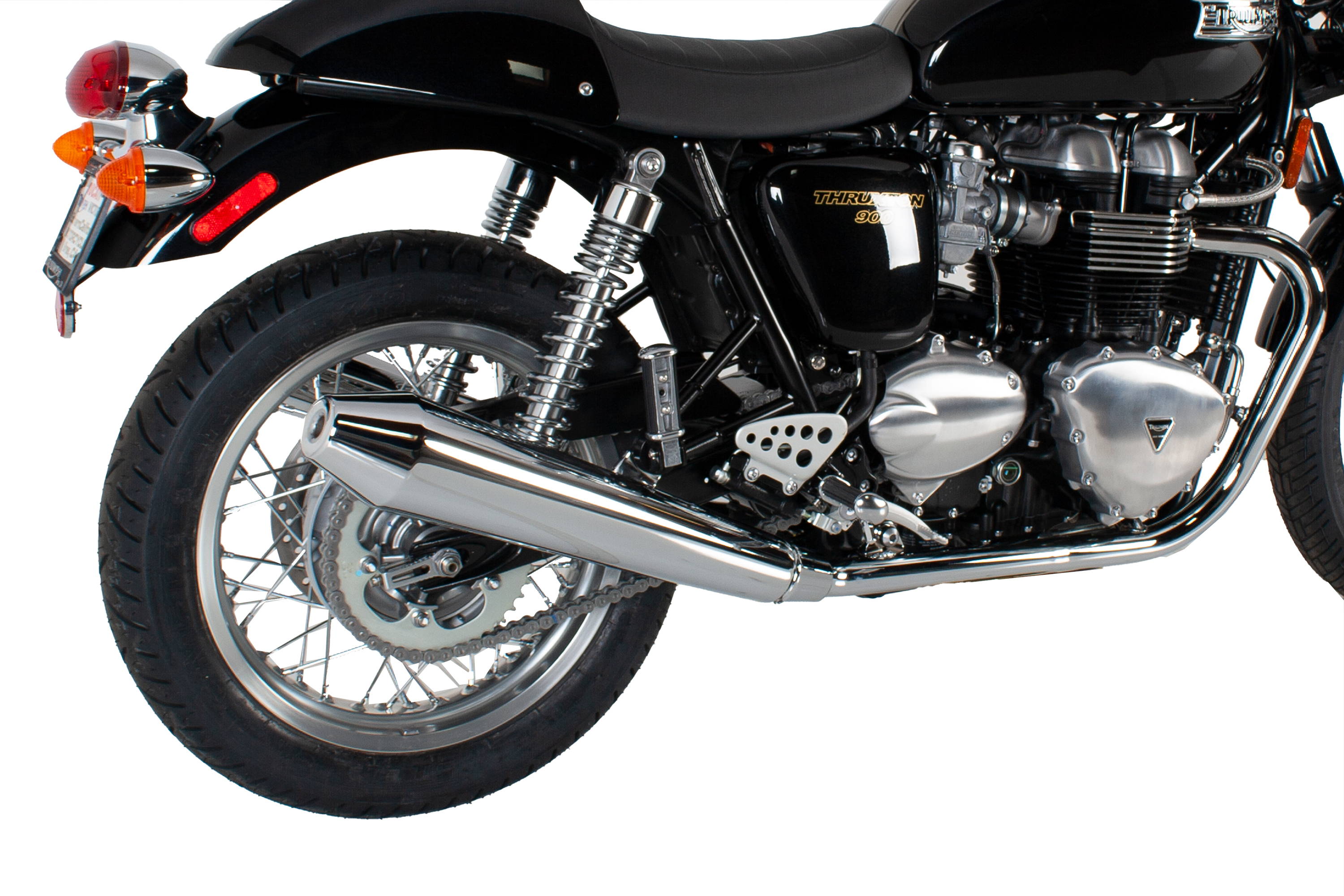 Before: Stock exhaust system with covered up driveline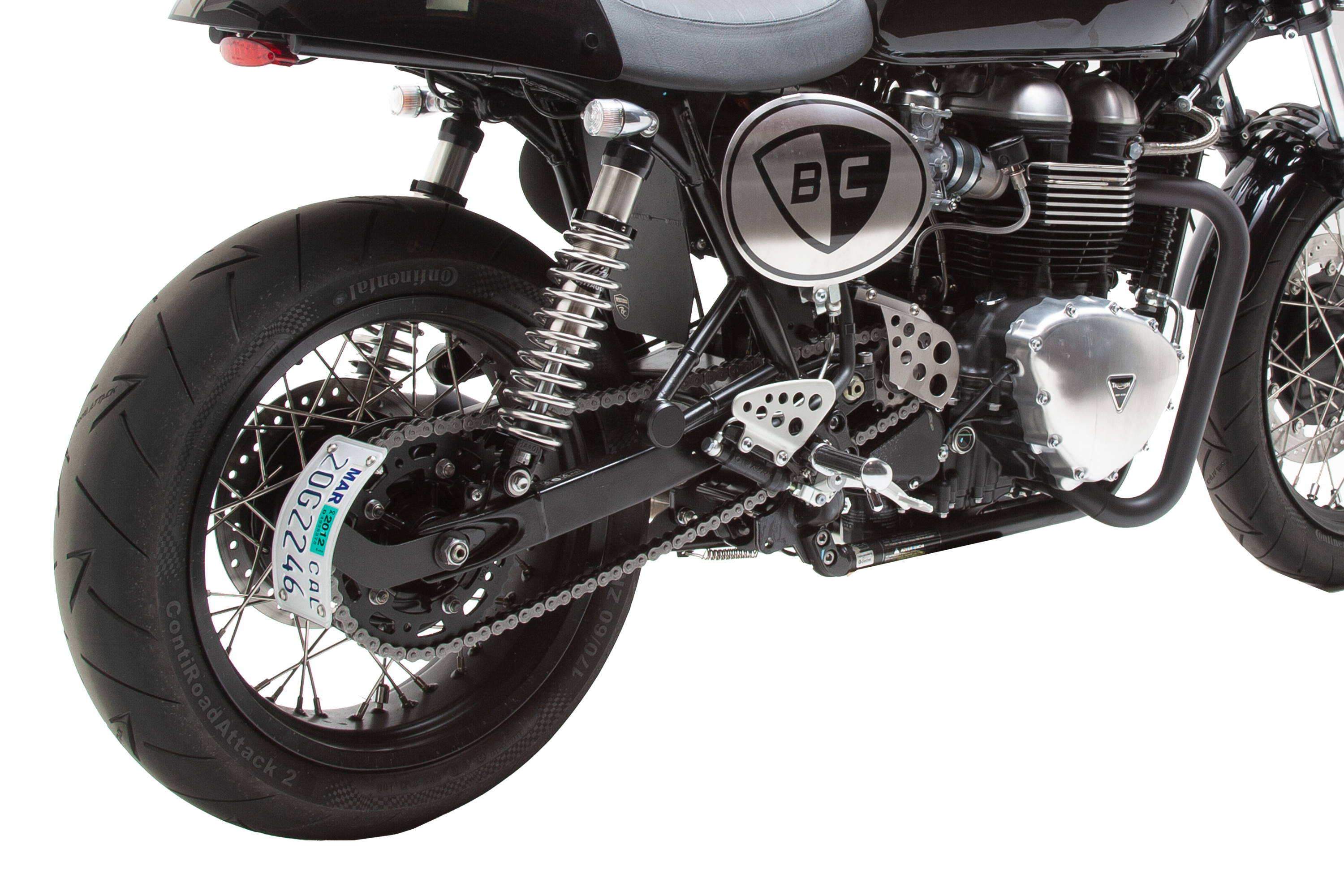 After: 2-1 system installed, exposing the driveline
For shaping, we decided to shape the headers with a mandrel bender as opposed to pie cuts for less internal restrictions, resulting in optimal exhaust pulse, flow, and visual sleekness (no exposed welds).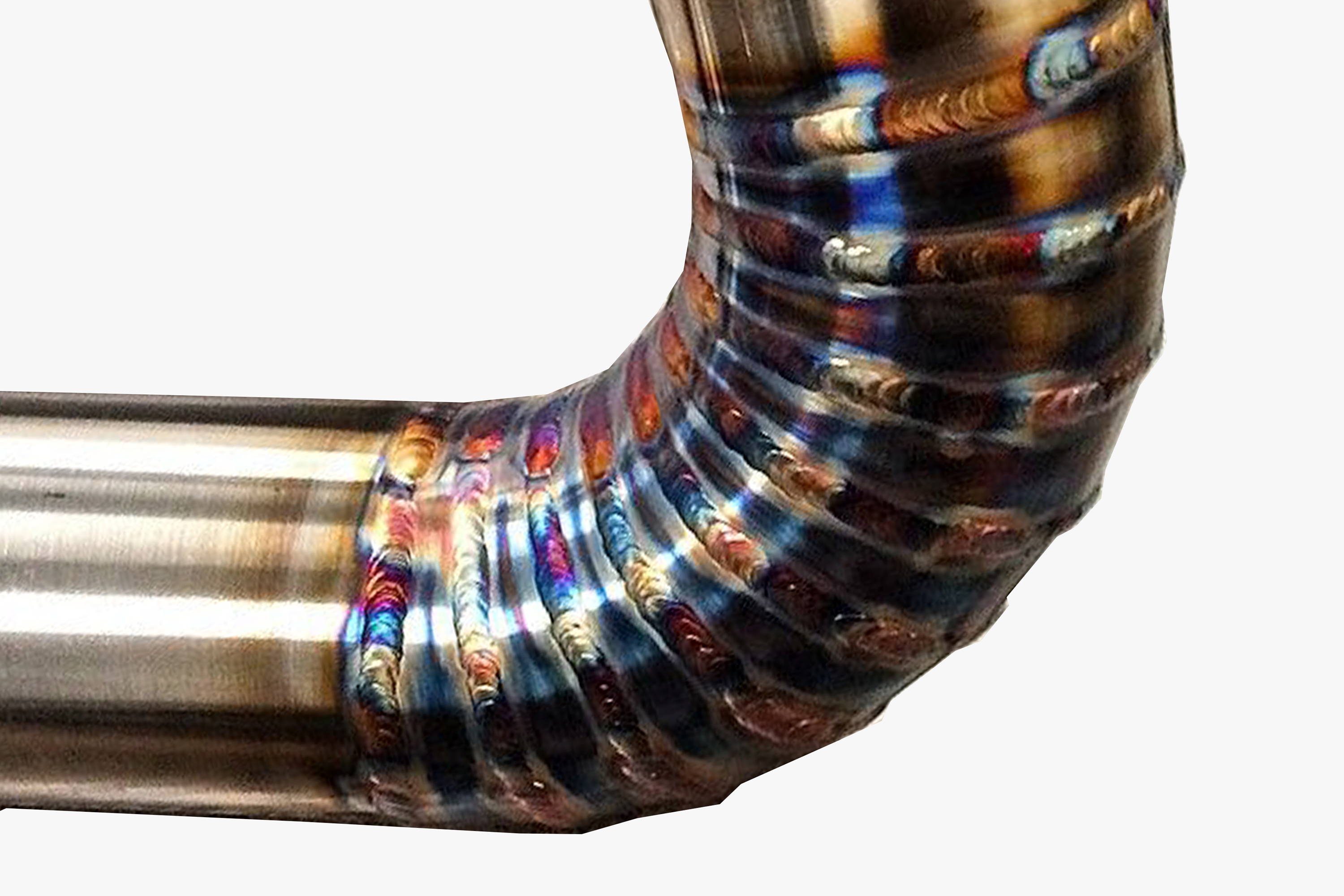 Pie cut: Aesthetically pleasing but has its downfalls such as more turbulence within the flow due to the inside not being smooth from the cuts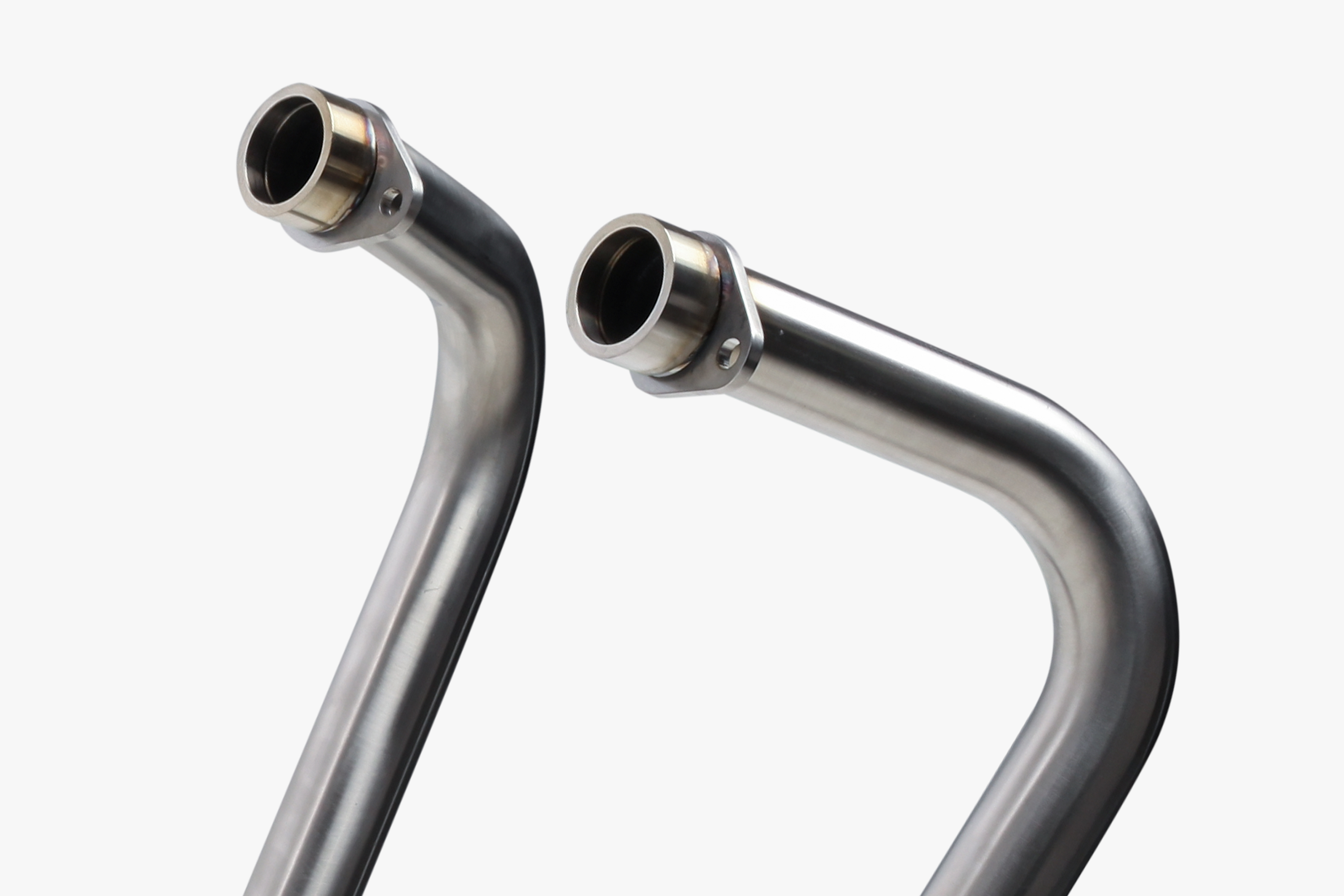 Mandrel bend: Seamless design, less turbulent flow, throatier exhaust tone
With mandrel bending in mind for the process, we went with a header design that closely followed the lines of the frame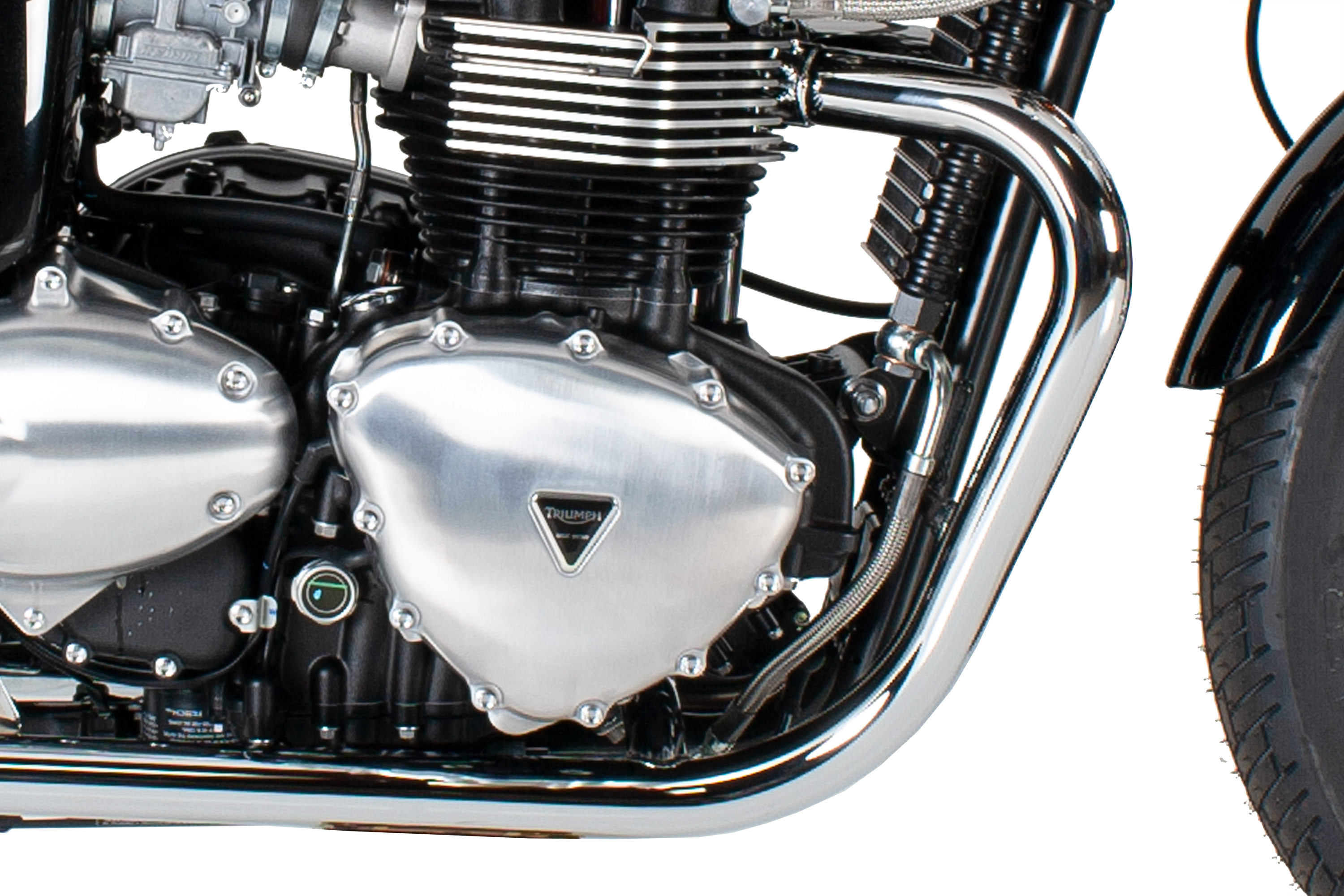 Before: The stock headers protrudes away from the frame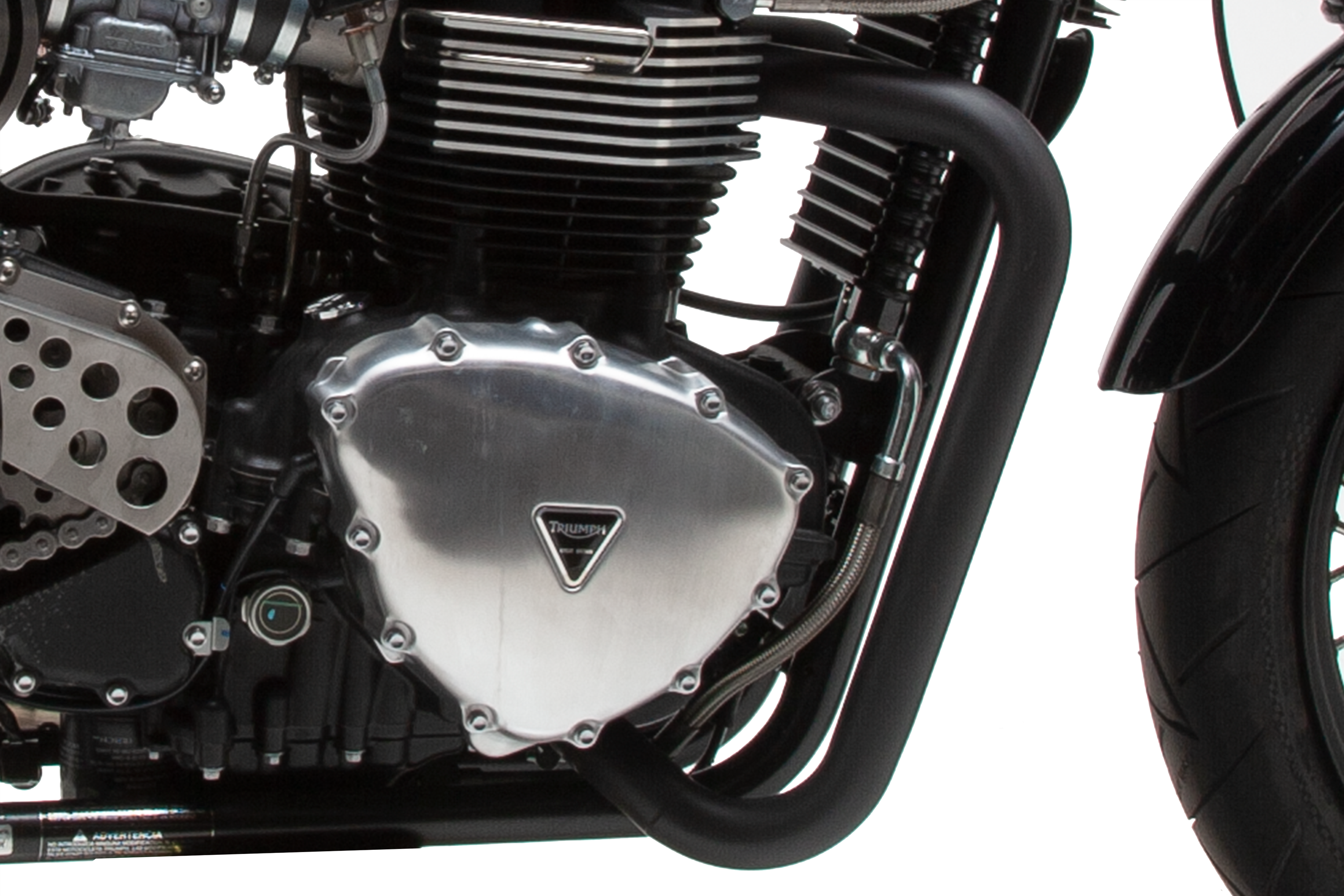 After: Tight bends made via mandrel bender, closely following the lines of the frame
Using clip-on handlebars became a big ordeal as some clip-on mounting clamps comes into contact with the master cylinder once everything is mounted. The only way around this is to grind off some material from the master cylinder where it's interfering with the clip-on clamp.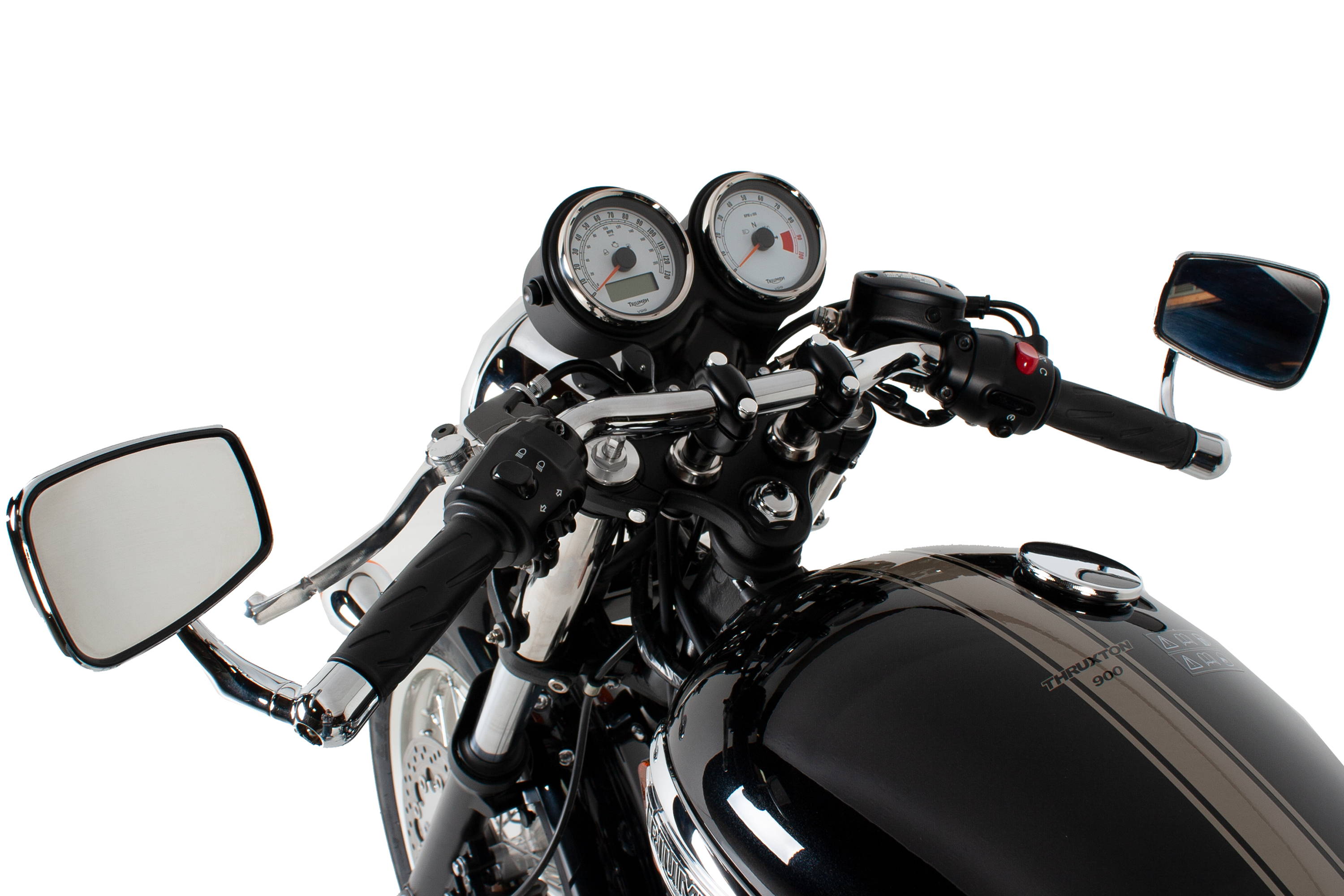 Before: Upright stock handlebars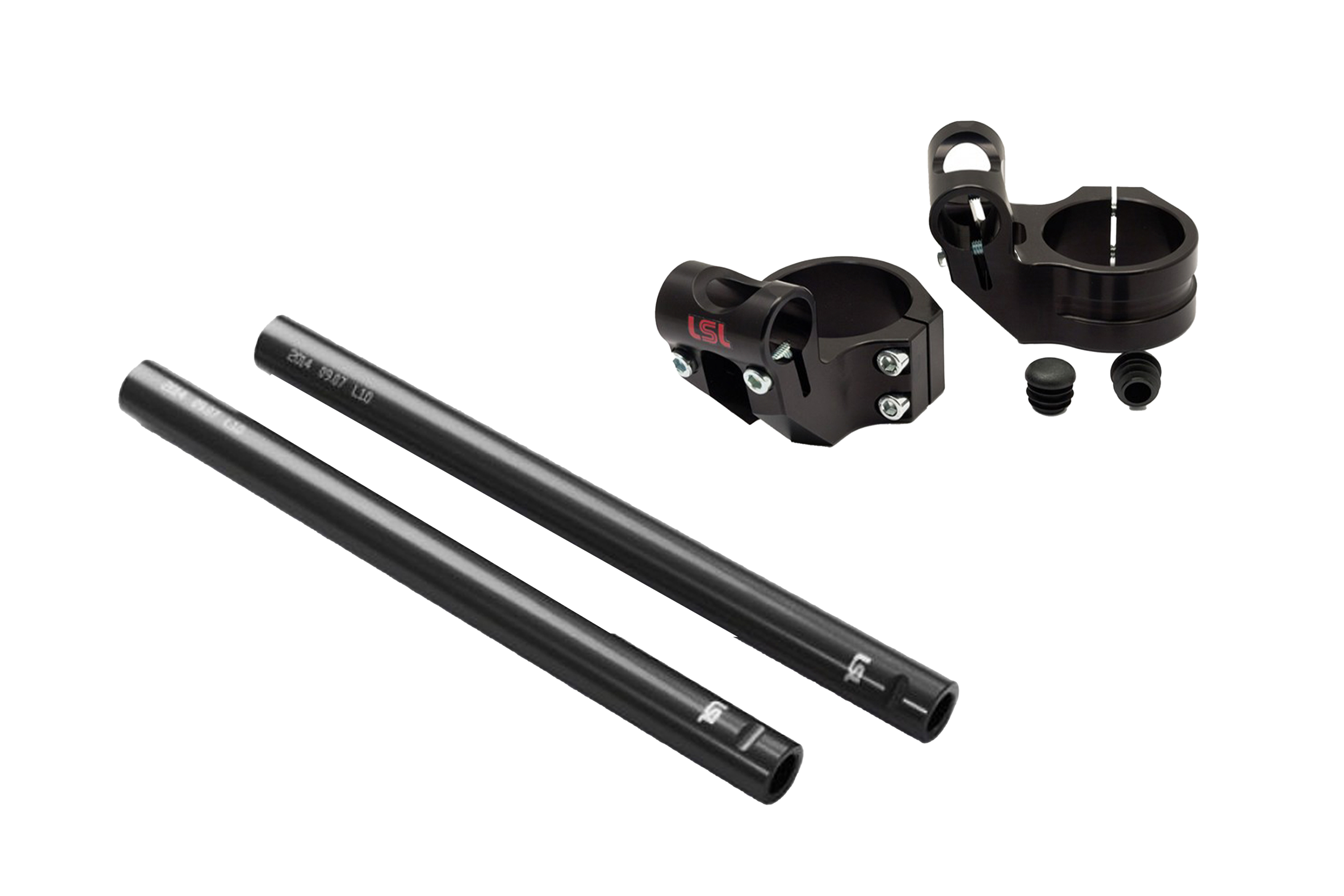 LSL Sport Match Offset Clip On Handlebars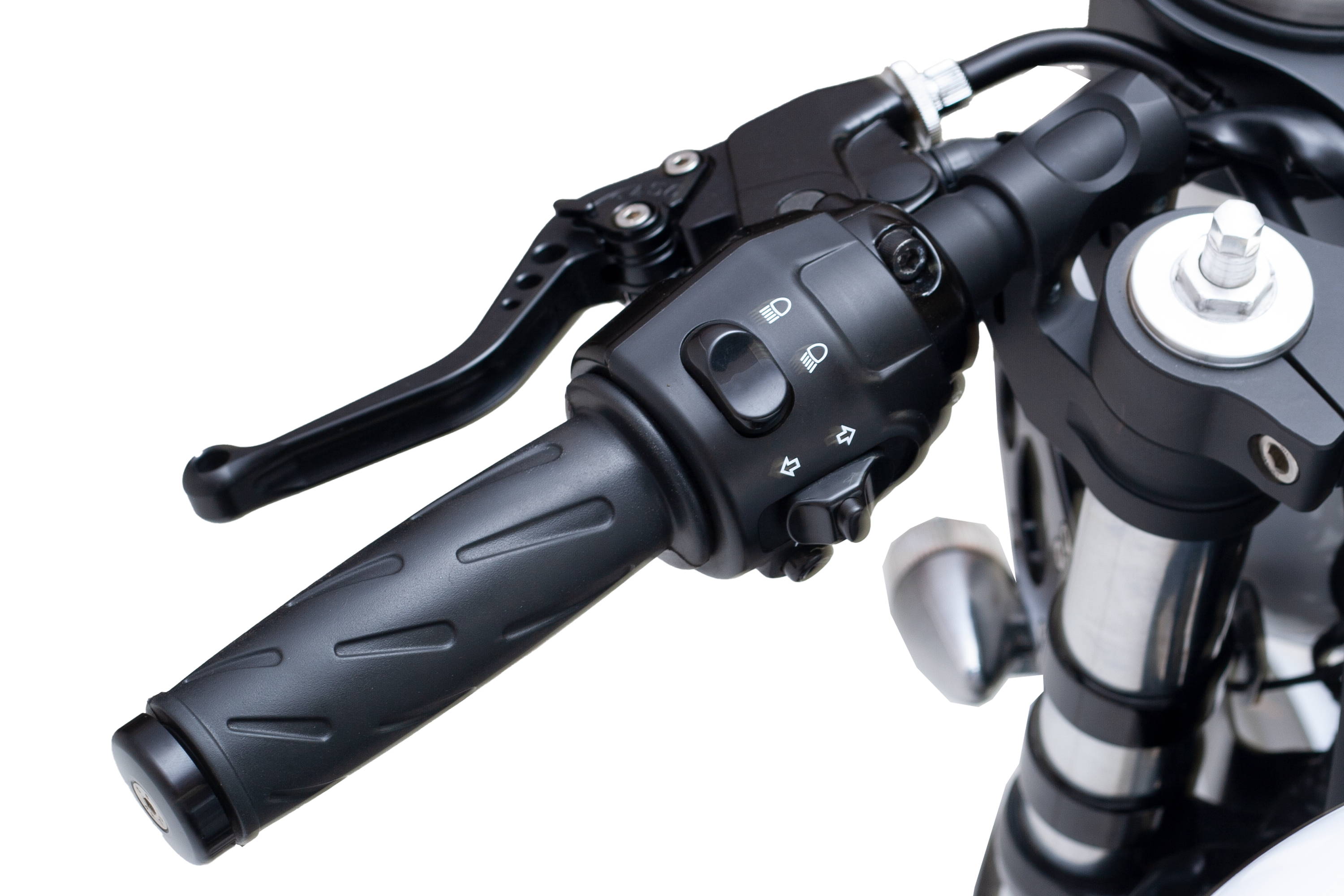 After: Lower clip-on handlebars
Besides the installation process, the new bars gave the bike an aggressive stance right off the bat, but this change also presented another issue where a large gap between the stock gauge bracket & headlight bucket was now exposed.

That's when the Dual Flat Gauge Bracket was developed, which positions the gauges so that they are level with the triple tree, lowering the headlight for a clean & elegant look.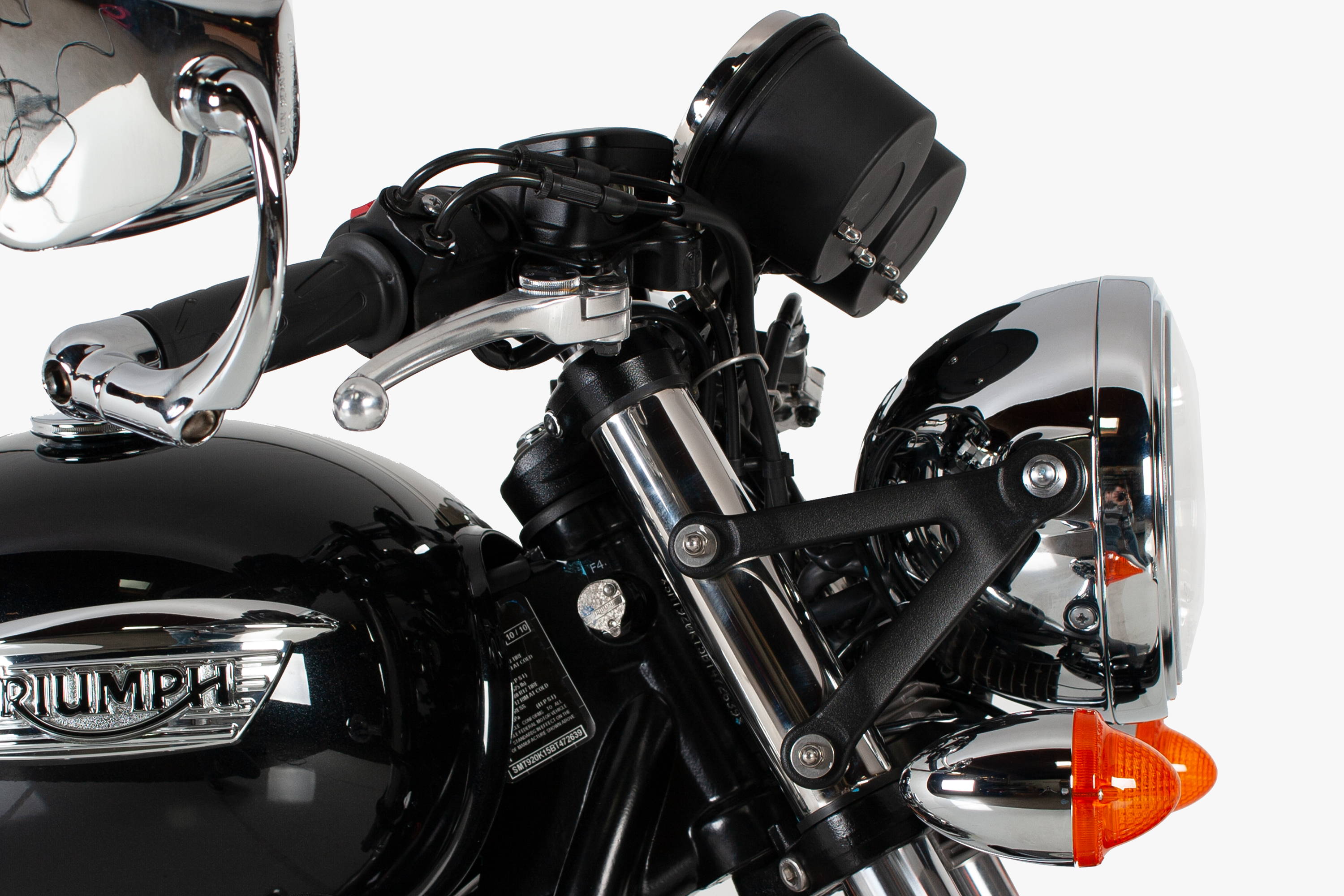 Before: Gap between gauges & headlight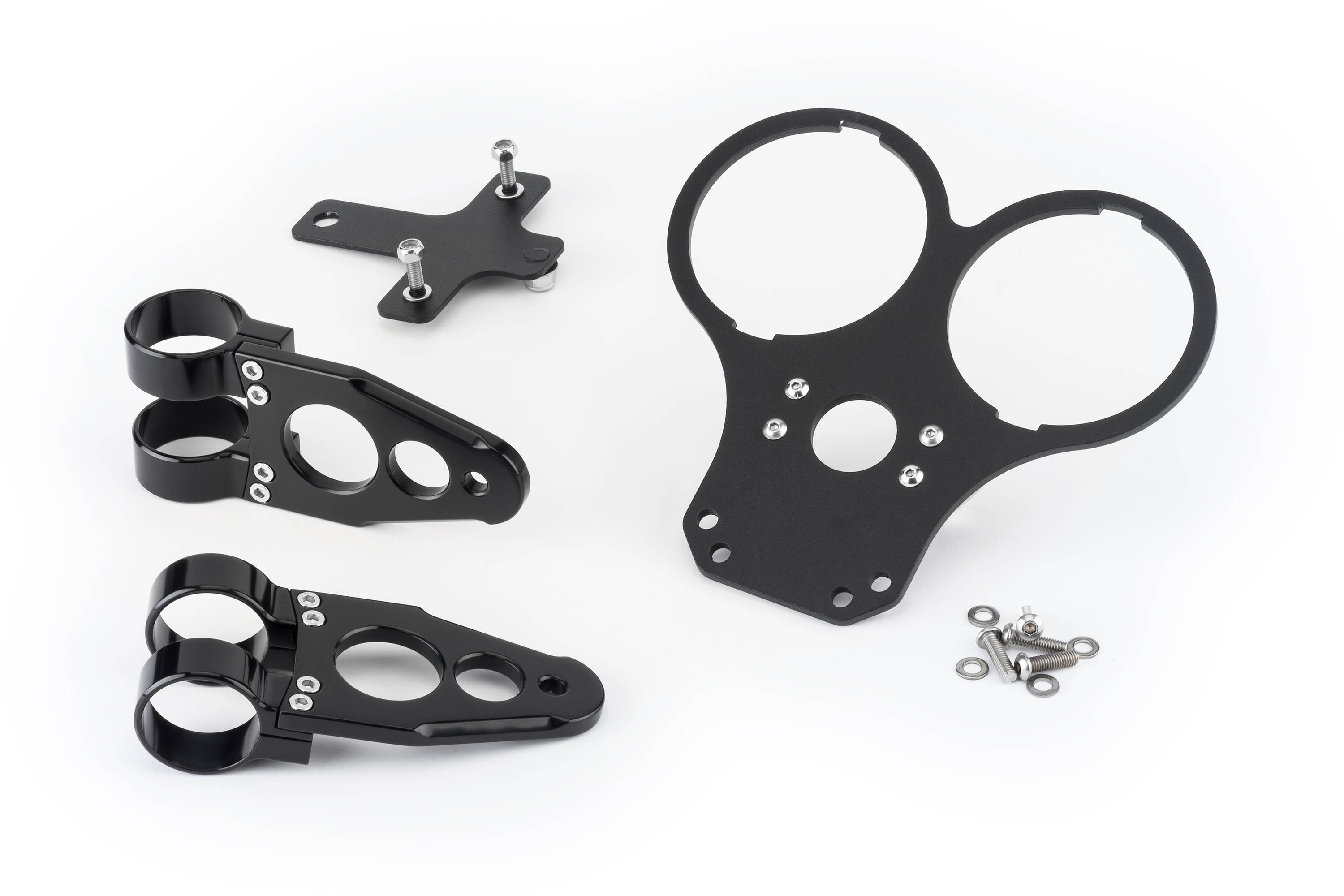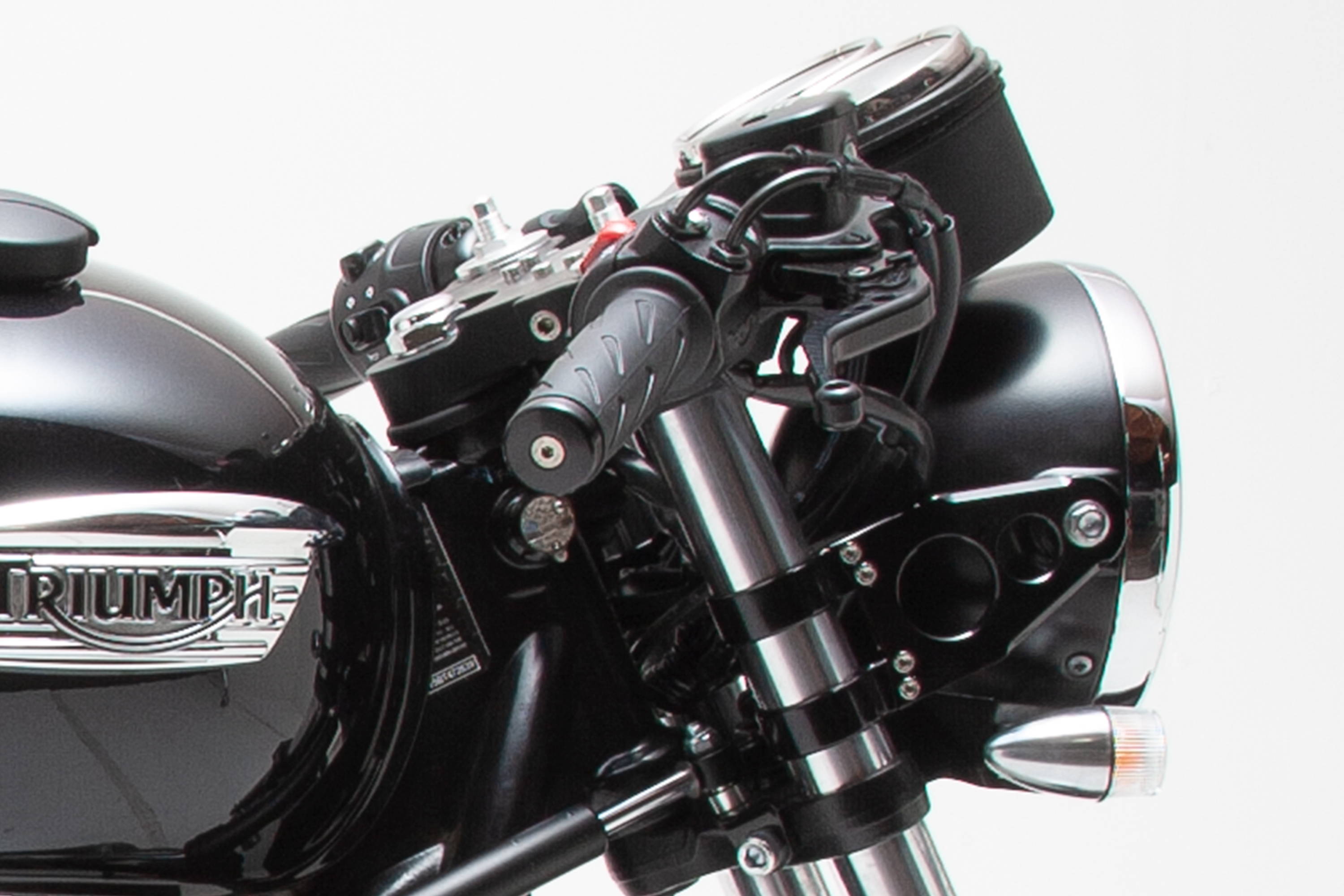 After: Gauges leveled, no gap
Then came the rear end, where we decided to entirely remove the rear fender assembly & replace it with our Cateye Fender Eliminator Kit.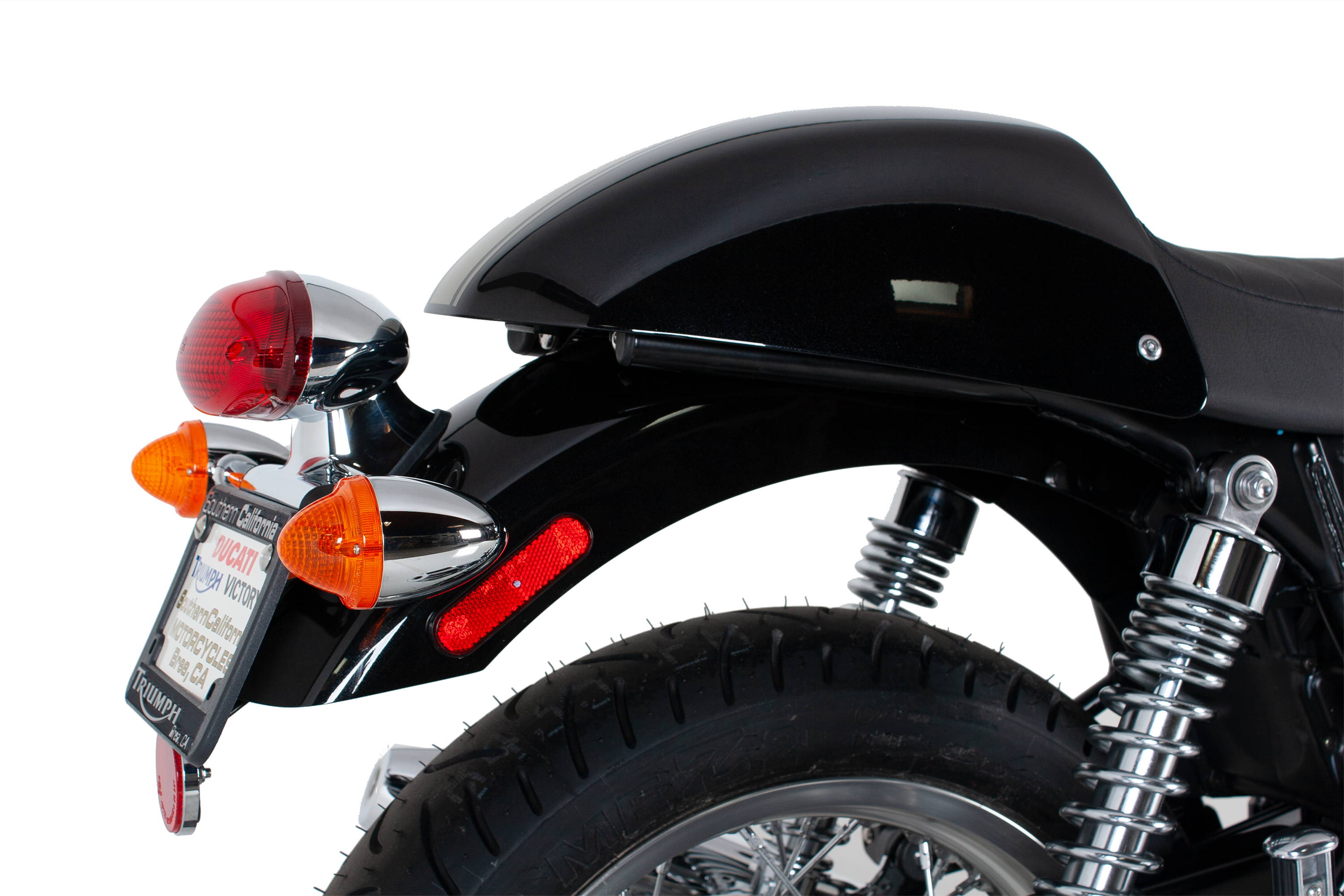 Before: Stock rear fender assembly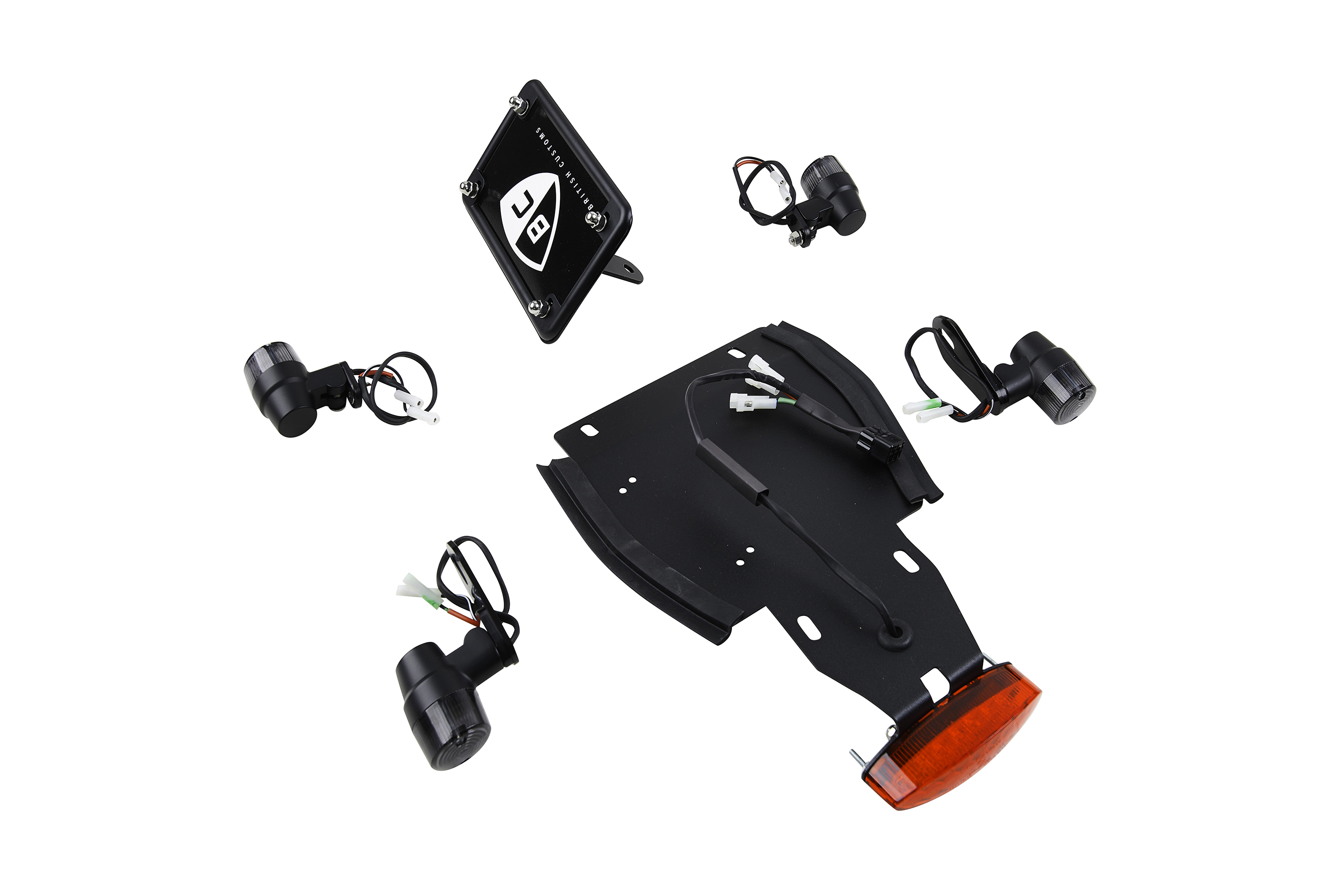 Cateye Fender Eliminator Kit
After: Cateye Fender Eliminator Kit
To open up the rear end and enhance that aggressive stance, we used our Rear Wide Wheel Kit (5.5 inch), and positioned the license plate from the frame to the swingarm with our newly designed Shockmount License Plate Bracket.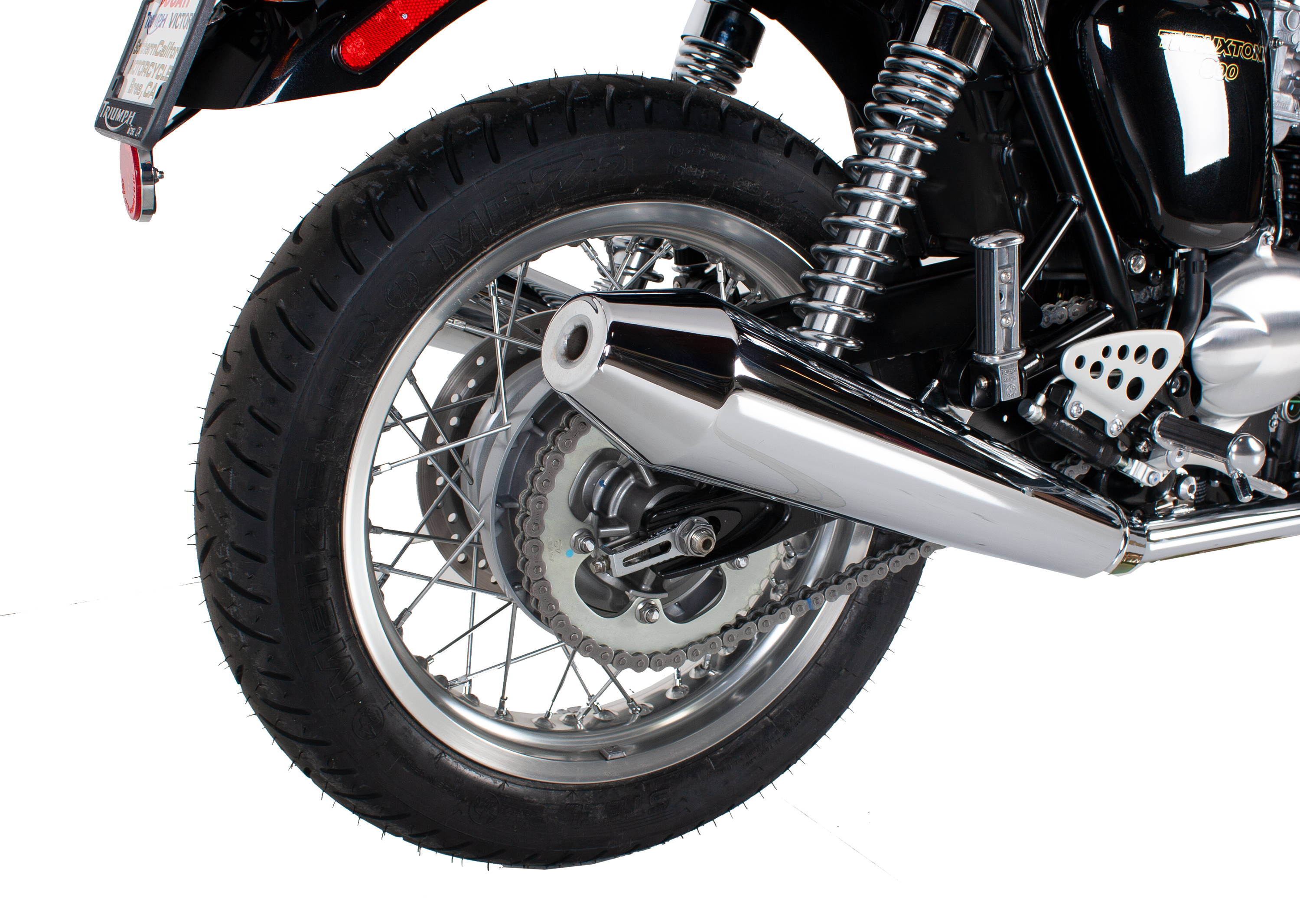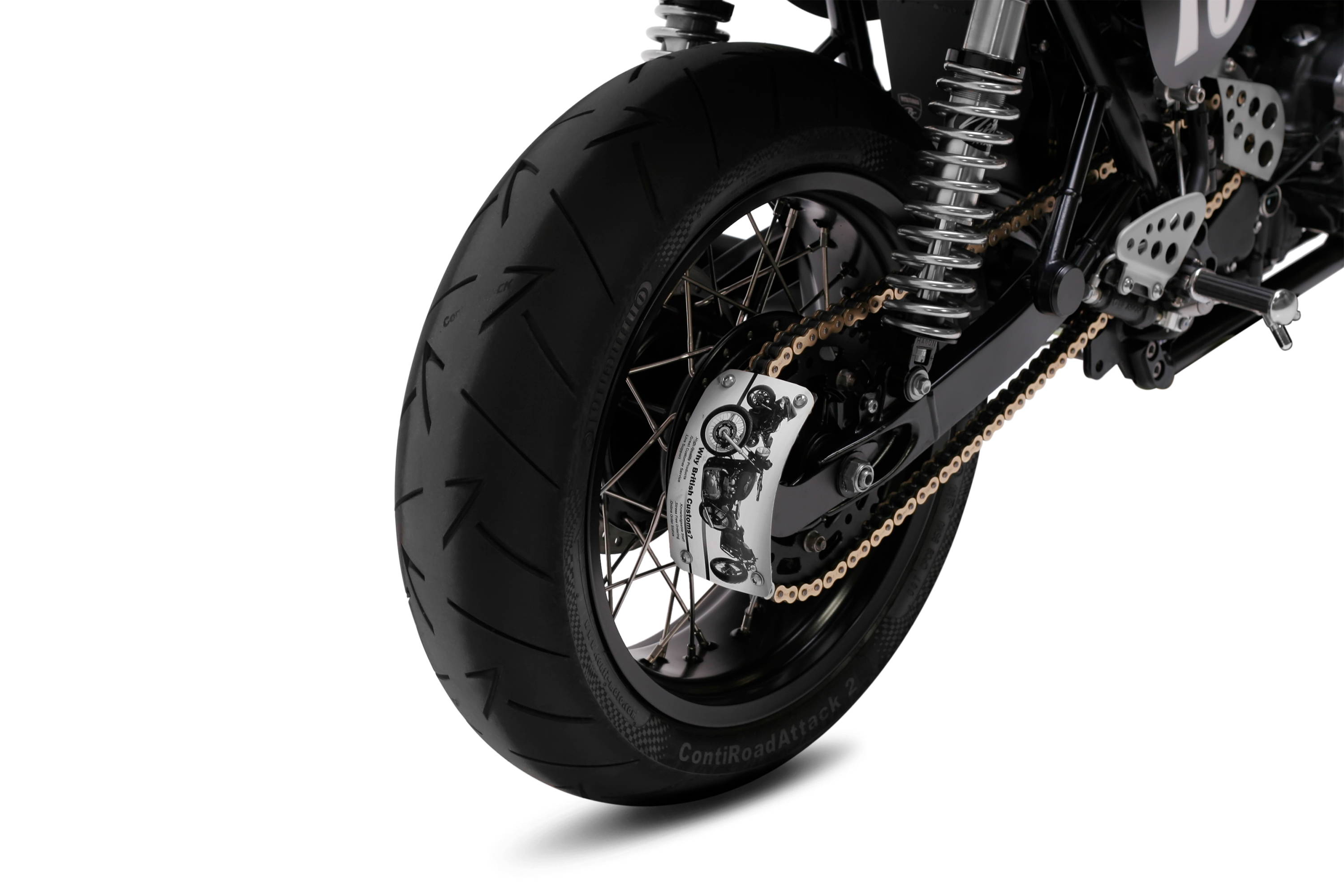 After: Rear Wide Wheel Kit with Shockmount License Plate Bracket
To top off the performance of the bike, we installed our Air Box Removal Kit to allow for more air flow to the engine.

This in turn allowed us to install exposed air filters for a more classic look.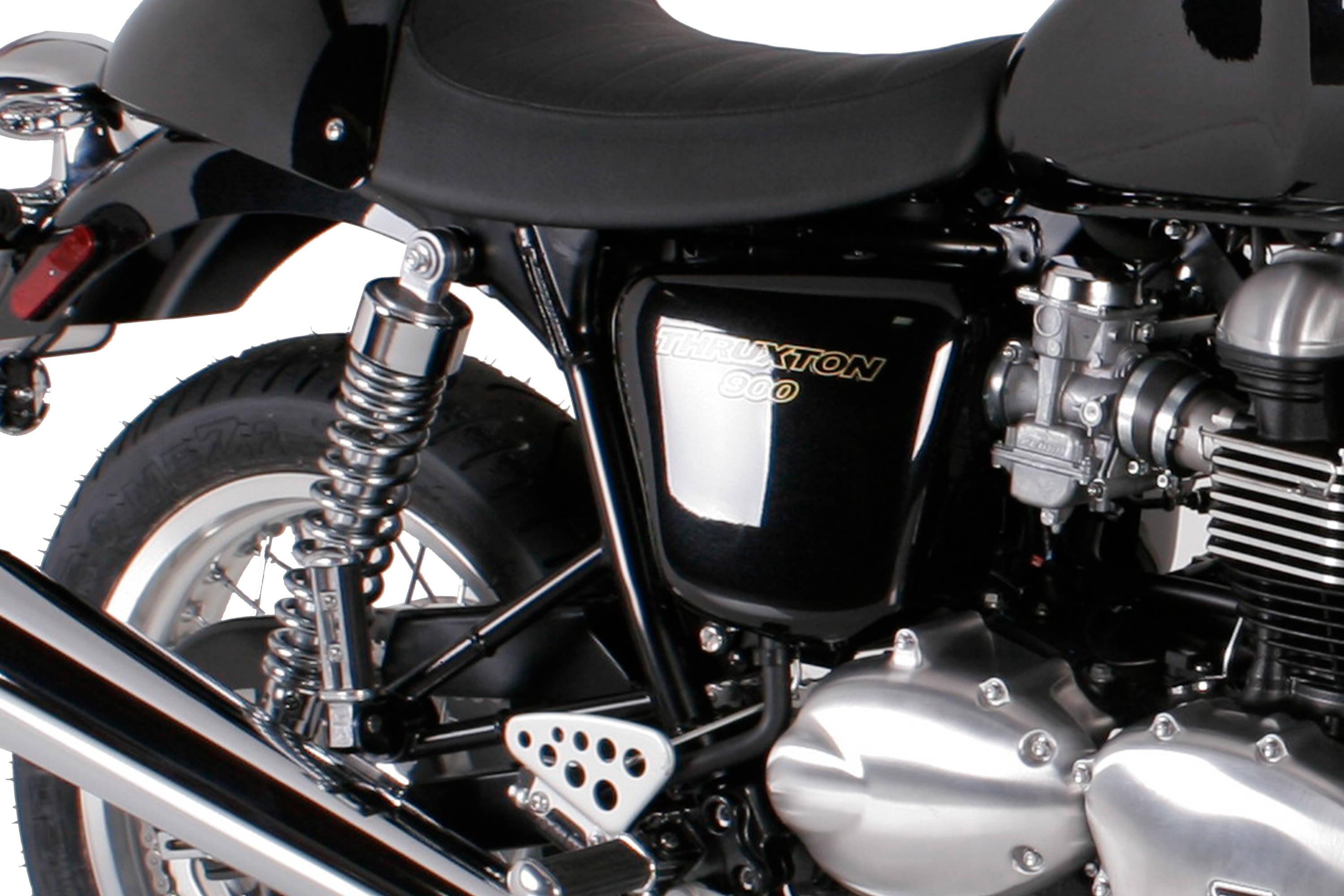 Before: Stock side cover with air box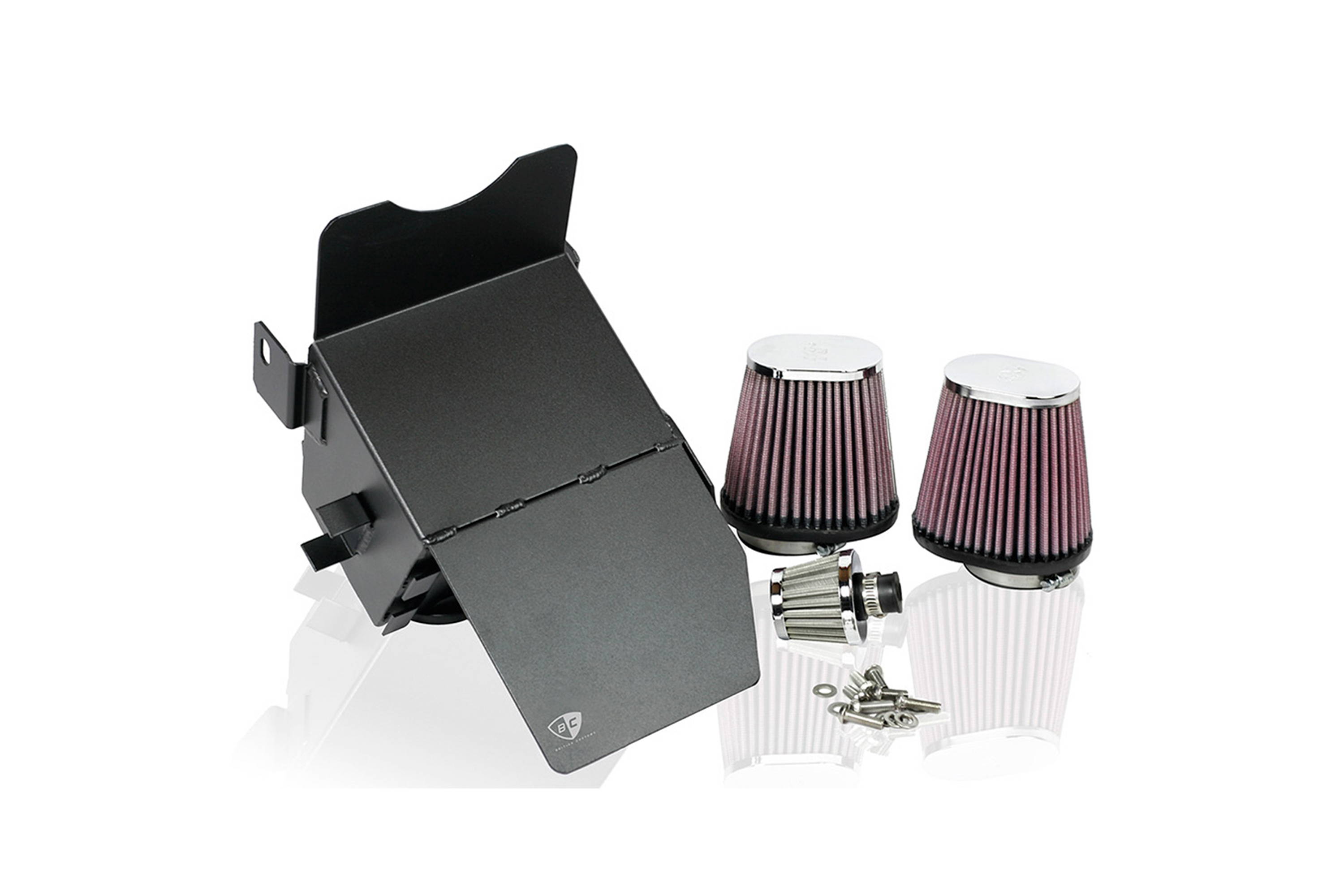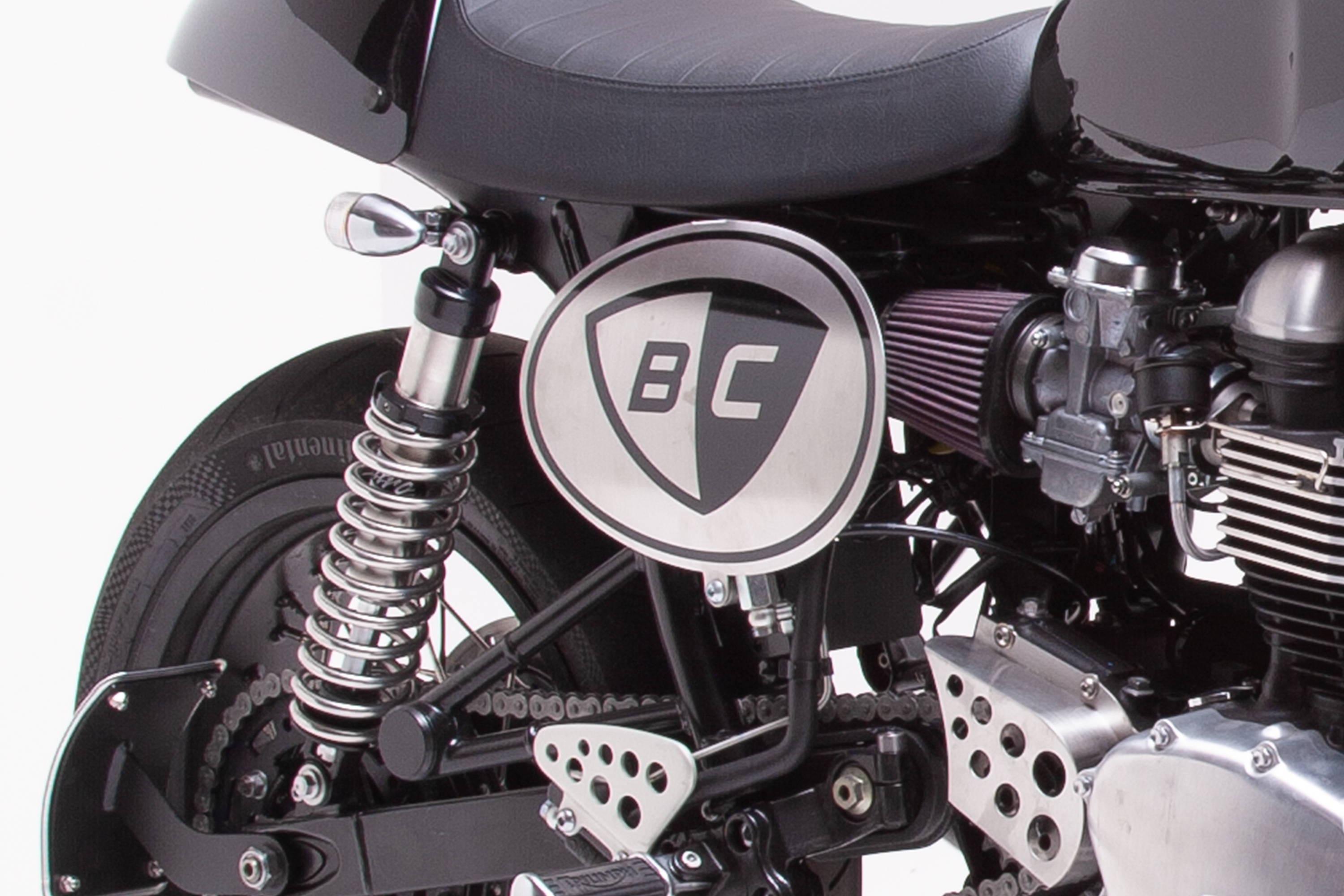 After: Our Side Covers with exposed air filters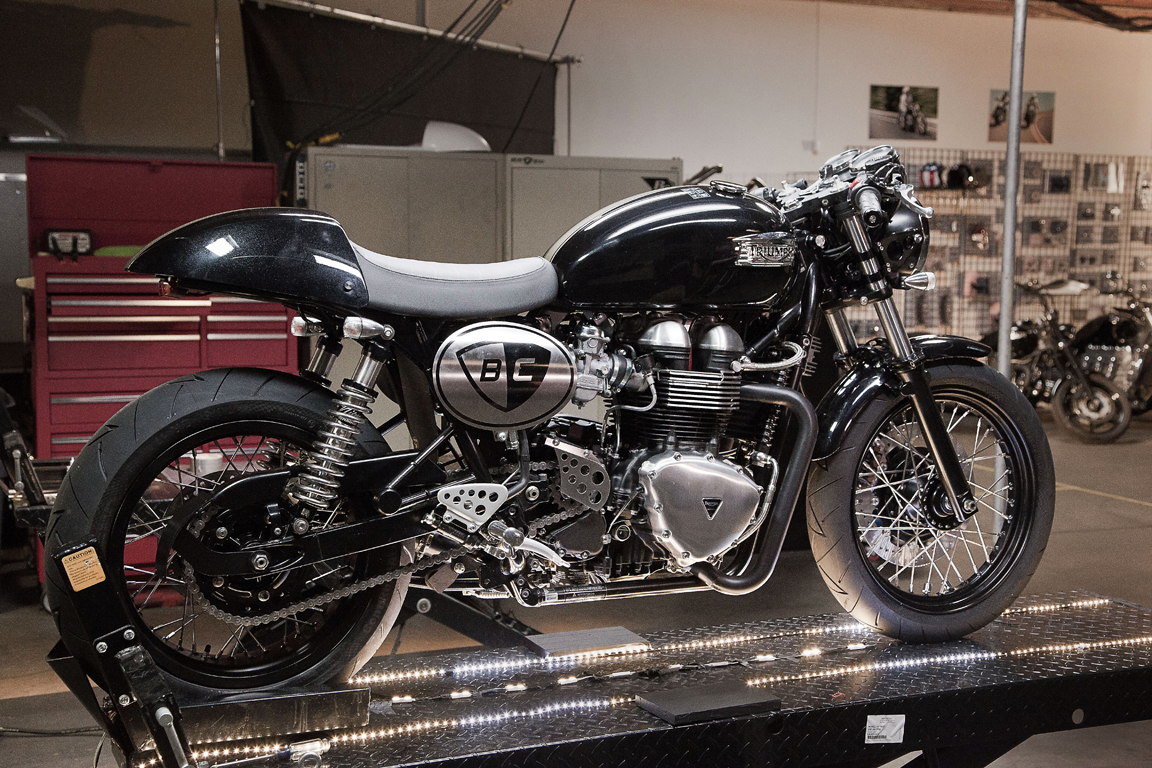 Finished build, pre-paint
Switching out components is a transformative process, but the transfiguration truly begins once the paint changes.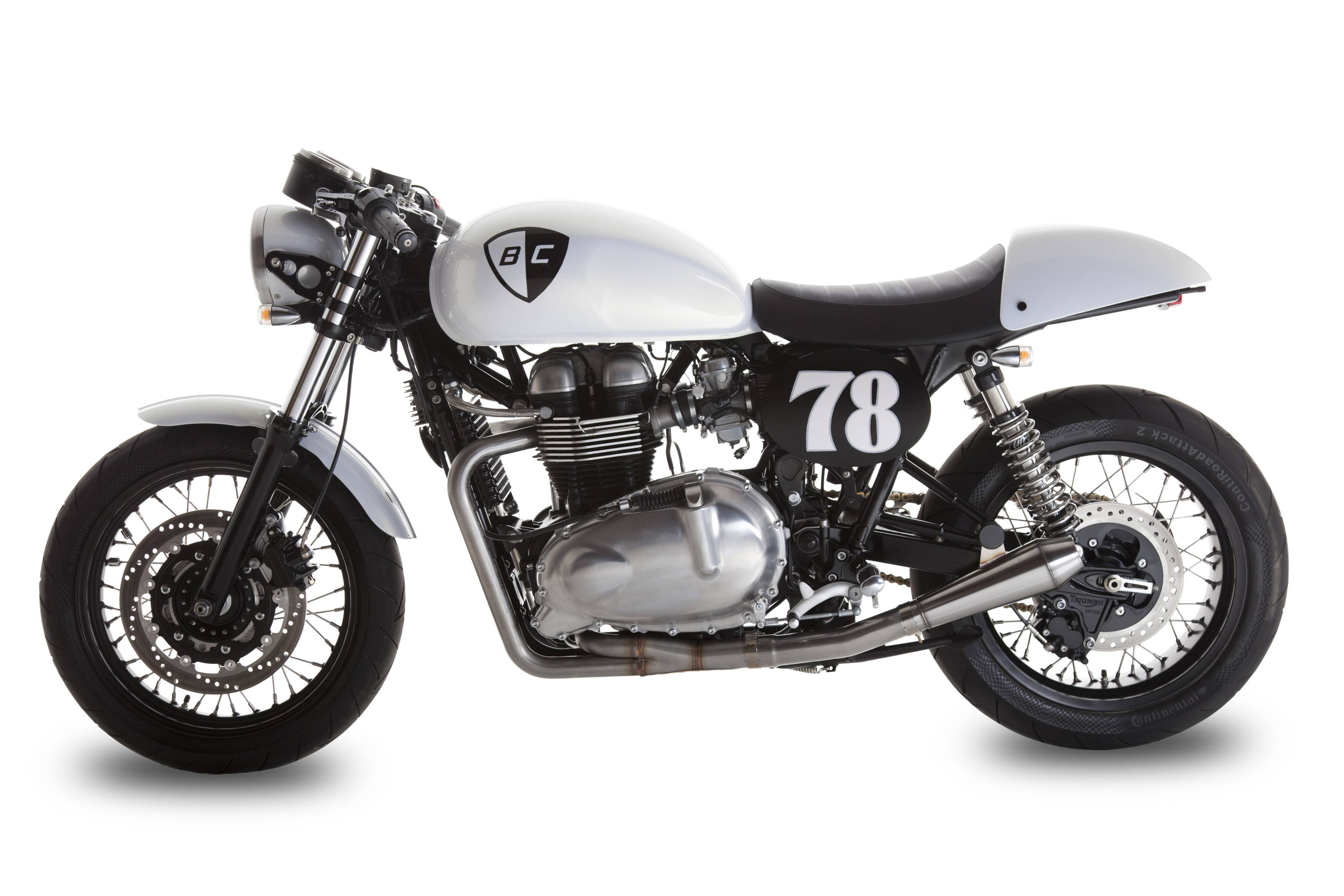 Starting off on the gas tank, we went with somewhat of an inverted paint scheme from the stock black and gold, going with a pearl white for the body with a silver stripe down the middle accented with a black outline then finished off with our BC Shield logo on the sides.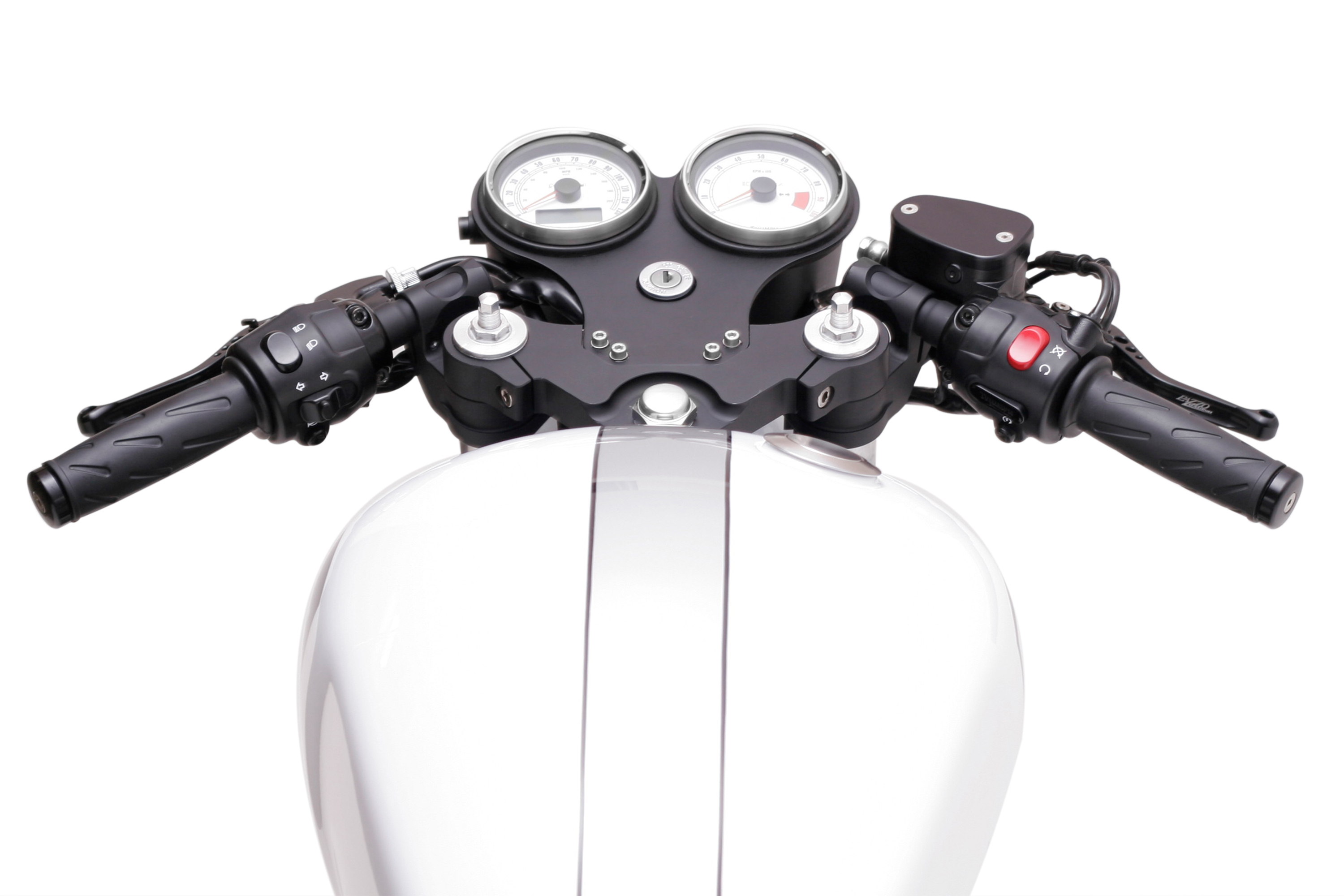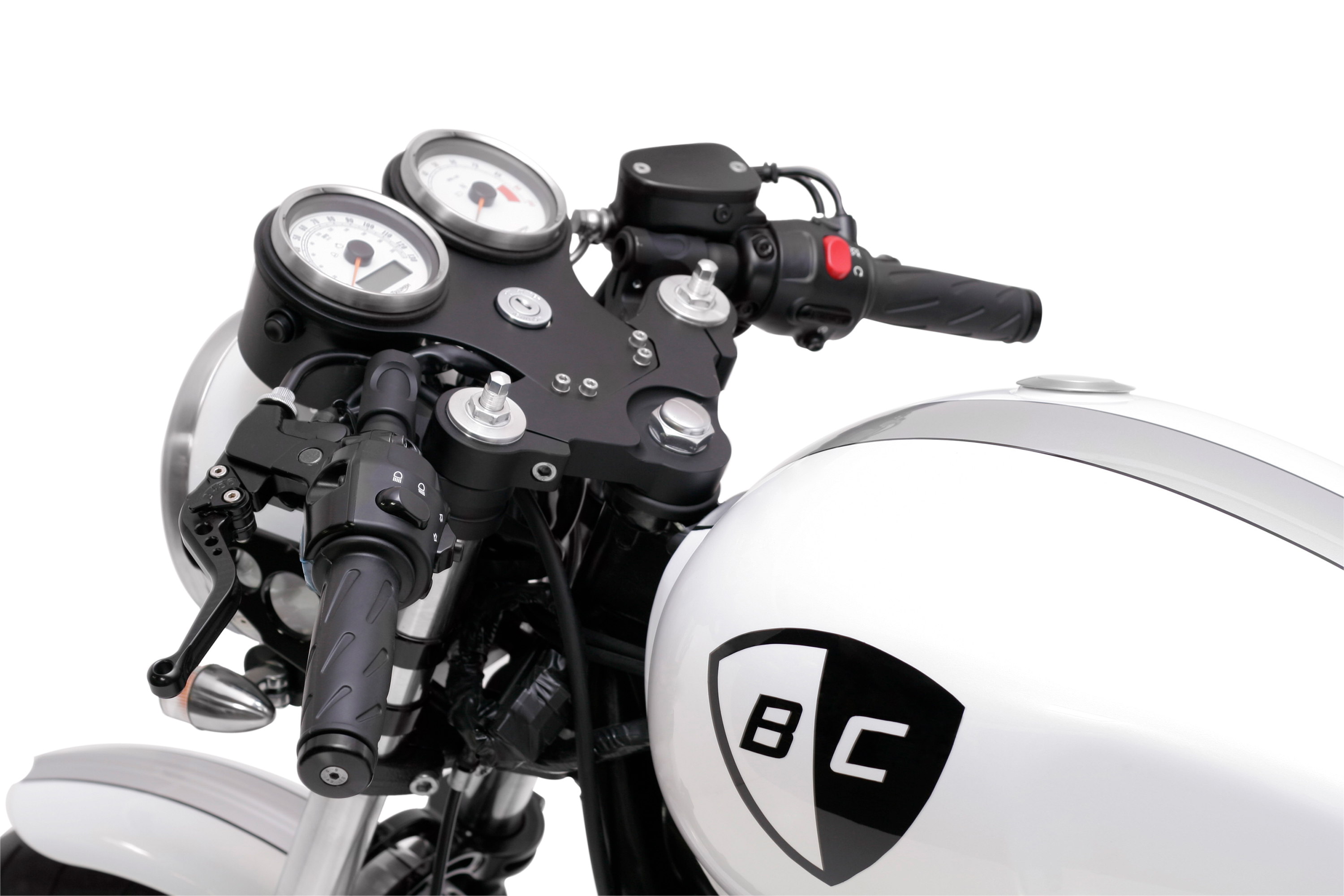 The same paint was applied to the front fender & seat cowl.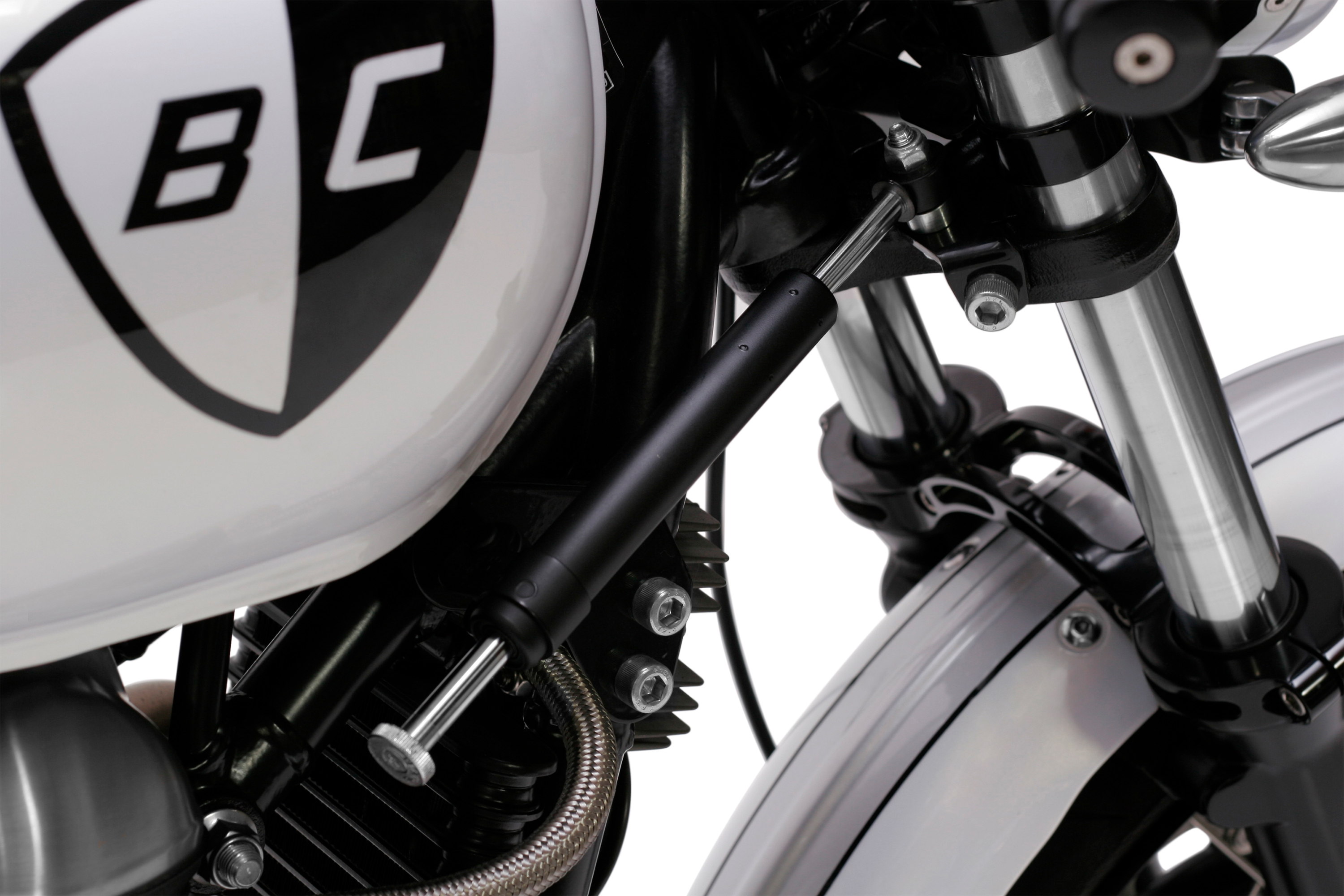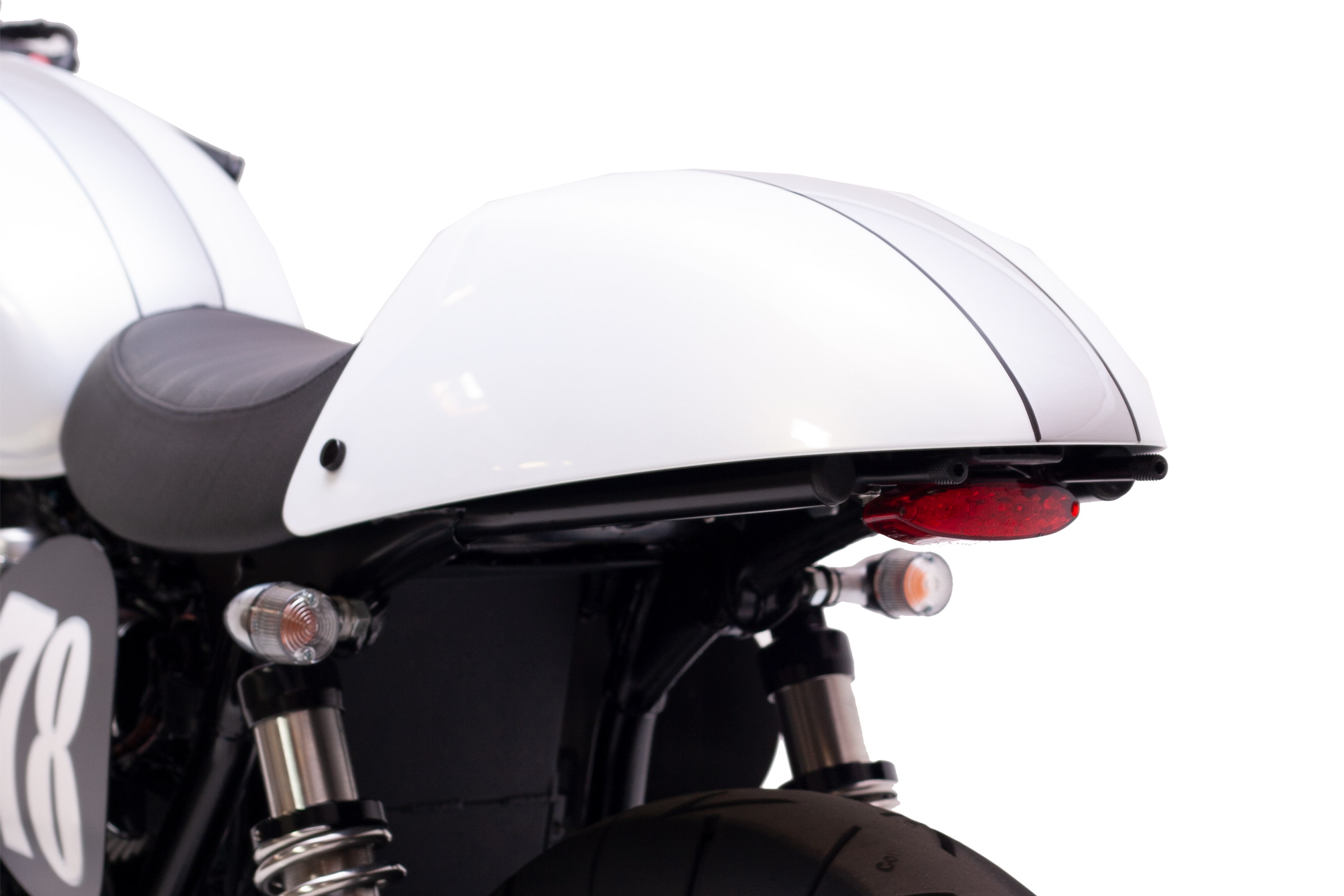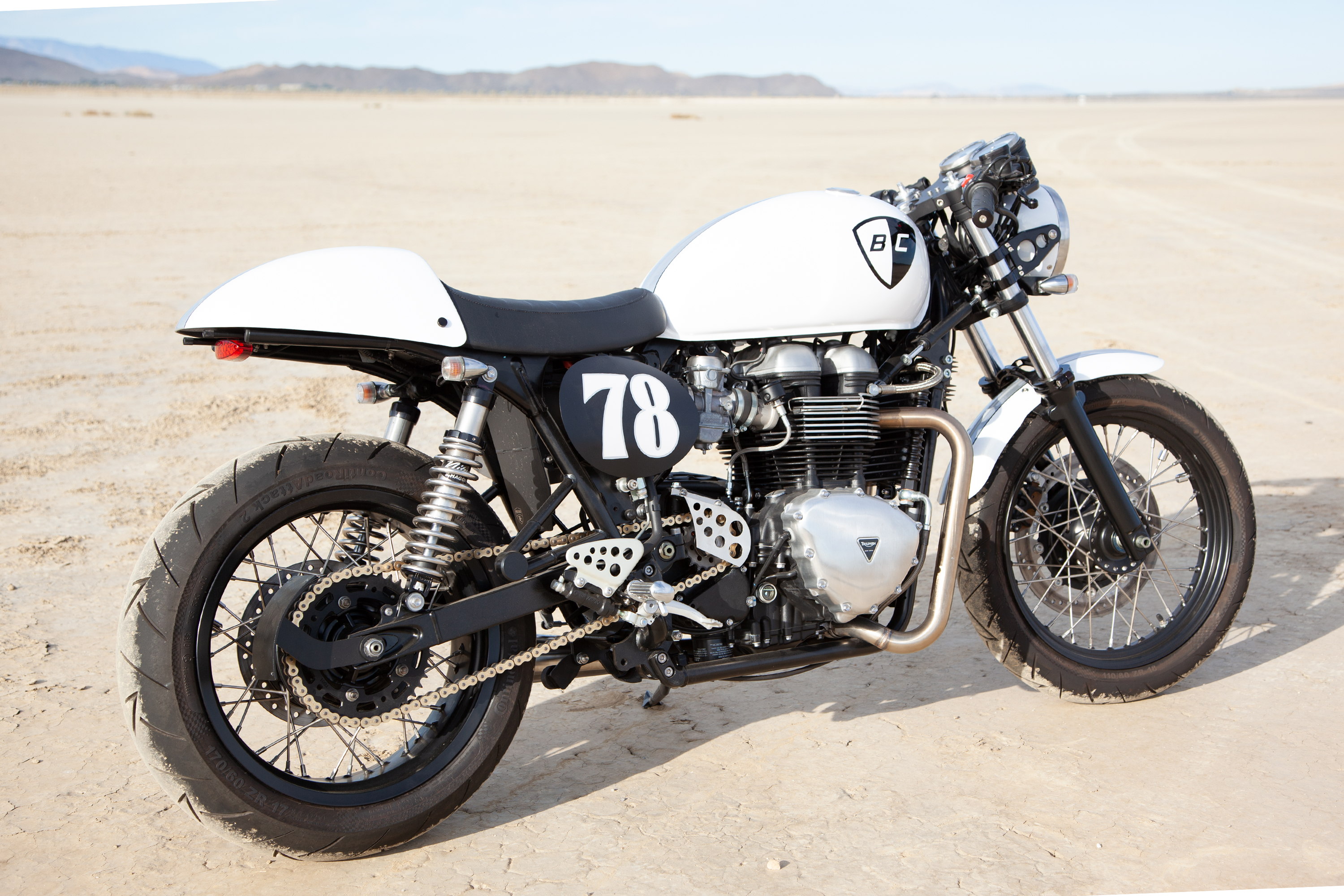 View the Cafe Racer TV Thruxton 900 Build here
The build was finished in a weekend (besides the paint) and went on to air in three episodes on Cafe Racer TV season 2 for Discovery Channel.

As a bonus, former AMA racers, the Bostrom Brothers, rode a stock Thruxton 900 (EFI) and our modified Thruxton 900 build side by side, and offered their feedback in the video.

See the throwback video below to watch the entire build process and comparison.
Stay tuned for part 2 and the birth of the next build within the evolution, "Cafe Racer Deux" by signing up for our newsletter list here for the latest updates, announcements & sales.
---