Our Top 5 Triumph Scrambler Builds

Over the years, British Customs has built many "scramblers." Sometimes we start with a Triumph "factory" Scrambler, either the air cooled Triumph Scrambler or the liquid cooled Triumph Street Scrambler. Other times we've started with a Bonneville or Street Twin and converted it to the "scrambler" style. Either way, the objective is the same; to build a bike that was made for the road into a bike you can take anywhere.
Before we jump into the list of our Top 5 Scrambler Builds, let's define what a "Scrambler" is. This can be a highly polarizing topic! Since we are focused exclusively on Triumph Modern Classics, we will loosely consider a bike to be a "Scrambler" when it has the following:
Bench Seat
Performance Pipes
High Fenders
Knobby Tires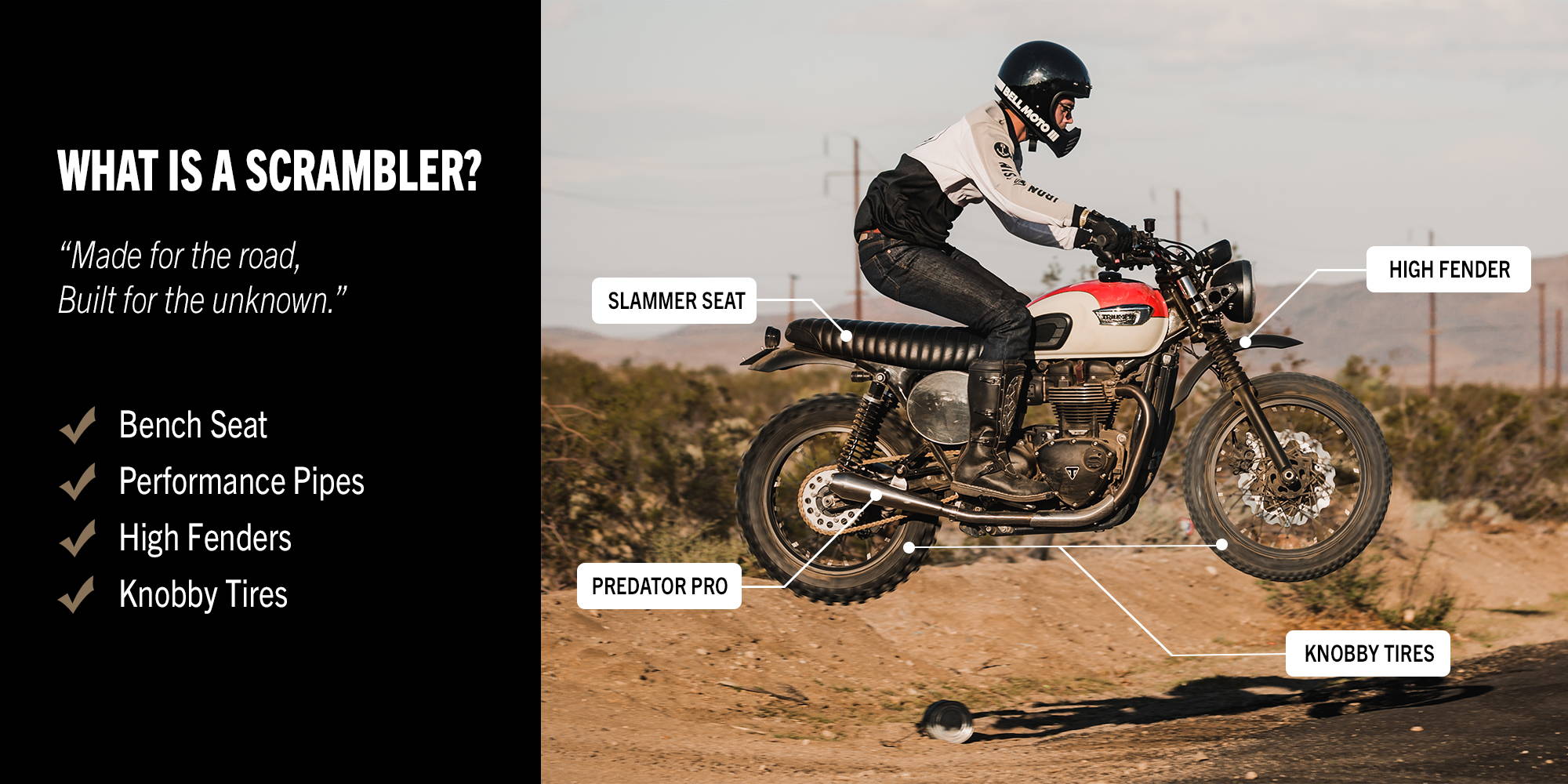 This is a rule of thumb (we break the rules ourselves) but it lays down a basic set of criteria when evaluating each build in this article. For more history on where this style came from, see this article on early hare scrambles.
1. Street Twin Desert Sled
2. Scrambler EFI aka The Dirt Bike v2
Our trusty 2012 Triumph Scrambler has seen every type of terrain we could throw at it. Seen here freshly rebuilt for the 2018 One Moto Show and ready to tackle the logging roads of northwest Oregon. Read more on this build here.
3. Ken's Street Scrambler
Longtime BC employee and lifelong Triumph enthusiast, Ken (he has 10+ Triumphs new and old), purchased this Street Scrambler in 2017. He recently bought a home in Arizona and wanted something for his new commute. Read more on this build here.
4. Chippa Wilson's Bonneville Beach Sled
When Pro Surfer Chippa Wilson reached out to us about doing a build together, we jump at the chance. This "Beach Sled" is a purpose built bike for Chippa's surf & turf lifestyle. It even has a detachable surf rack. Read more on this build here.
5. Street Twin Scrambler v2
This 2016 Street Twin was one of the first off the factory assembly line. We ripped it apart, R&D'd parts, and built it up a couple times. This ADV-inspired Scrambler build is our favorite iteration yet! And easily done! Read more on this build here.
Whether you agree with these choices or not (opinions were varied at our shop), hopefully we can all agree that the "Scrambler" style fits a Triumph like a tailored suit. Leave a comment below with your thoughts.
---